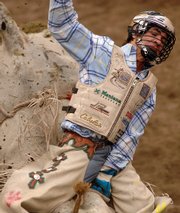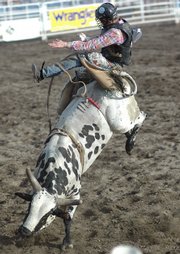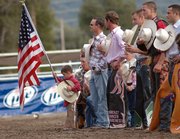 Steamboat Springs — That this wasn't any old Steamboat Springs rodeo was obvious when the cowboys were pulled aside for pictures and asked to sign autographs.
It also was apparent by the size of the check Mike Lee walked away with.
Lee won Sunday's Rocky Mountain Bull Bash Professional Bull Riding event at the Brent Romick Rodeo Arena in downtown Steamboat Springs. One of the most decorated riders in bull riding, the 25-year-old from Decatur, Texas, had little trouble making his way through a field of 44 riders.
For his efforts, he pocketed more than $6,000, part of a $13,000 purse for the event.
"I had good bulls, and that's a big part of it," Lee said. "I didn't quit. I got in trouble a couple times, but I didn't give up when I got down."
Lee advanced to the finals with an 82-point ride on Black Banana. It wasn't the best of the night for the cowboy, but it was enough to get him into the finals with nine other riders.
There, he mastered War Dance with an 87.5-point performance, good enough to earn him the Bull Bash title.
"I was close (to coming off) in both rounds," Lee said. "The short round was a pressure bull - everyone expects me to ride that bull. Right there in the gate, he got me tipped, but I had to hang and drag. It wasn't pretty, but I got it done."
Lee wasn't finished yet. Winning the competition earned him a chance for a third ride, this one aboard 3 Spots, a championship bull from local stock contractor Priest Creek Ranch.
Again, Lee stayed on top for the necessary eight seconds. The third ride earned him an extra $2,500. His payday pushed him to more than $300,000 in annual earnings, according to the Professional Bull Riders Web site.
"For Mike, to ride that last bull was great," event announcer Bob Feist said. "He's just a phenomenal athlete."
Lee was far from the only star in Sunday's competition. A mean bunch of bulls nearly stole his spotlight. Only three of the 10 riders who advanced to the final round successfully recorded rides. Jordan Hupp, of Cheyenne, Wyo., came closest to Lee with an 87-point final ride.
Bulls such as China Grove, Whisker Burn and Pandora's Box all got the last laugh, sending their cowboys to the rodeo arena dirt.
Two of the finals bulls, and 10 overall, hailed from Priest Creek Ranch. Priest Creek's Soulja Boy de-saddled Billy Robinson while Night Sweats got rid of Shane Proctor.
"It went well, very well," Feist said. "It's great when you have that many bulls of that caliber in the short round."