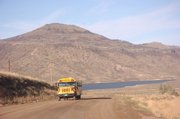 South Routt — Stagecoach resident Chris Hart faces two choices for his son's education.
Hart works throughout Routt County, and his wife works in Steamboat Springs. He can either send his son to the South Routt School District - leaving him with no family nearby during the day - or take his son to Steamboat Springs schools, farther from home.
But there might be a third option that has been discussed for years: a school in Stagecoach.
Resident Kim Rabon, former principal of South Routt Elementary School in Yampa, is working to create just that. Rabon, Jane Colby and Ken Burgess have created a steering committee to create a charter school in Stagecoach.
The creation of the charter school still is in its early stages, and the group will need to decide what kind of curriculum and programs to offer. But several aspects have been decided, Rabon told a crowd at the Stagecoach fire station during an information session Thursday.
The school will be public, free of charge, and most likely associated with the South Routt School District. The rest of the details, such as what grades the school would serve, will be determined through community input.
The steering committee conducted a survey of Stagecoach residents and found that more than half of the residents support the idea of a charter school. The residents who did not support it were hesitant to take money from the South Routt district and were unsure of the details.
"There's a real population of real loyal South Routt School District supporters in this community," Colby said. "There's hesitation to do anything that would hurt the school district."
Colorado public school districts receive funding from the state on a per-pupil basis. Charter schools receive the same funding, funneled through the local school district.
The steering committee has met informally with South Routt School Board President Tim Corrigan and Superintendent Scott Mader to discuss the possibilities of forming a charter school through the district. No agreements have been reached.
Corrigan and Mader said they would like to see a school in that area to serve the students living in Stagecoach, but the district does not have plans to build a school of its own in the area.
"In order to build a school in Stagecoach, the district would probably have to float another bond issue, and coming so shortly after we've just floated a couple, I don't think we're comfortable going back and asking the taxpayers for more money right now," Corrigan said.
Mader, who served as principal at a charter school in Aurora before moving to South Routt, said charter schools have the ability to get funds not available to the school district.
"In the short run, I think sometimes charters can get some up-front money that districts can't," he said. "They can get more of it and get it quicker."
Mader also warned the economics of a charter school become more difficult after time, but by that time, the charter school would be receiving funding through the school district and possibly could turn the school over to district officials.
The district owns a 9-acre parcel of land in the Stagecoach area that possibly could be used for the school site.
Although the charter school could take some students out of the South Routt district, and thus divert the funding, supporters say it also will encourage students to stay in town who would otherwise attend Steamboat Springs schools.
Hart, whose son is 2 years old now, said he probably would think about leaving the district if the charter school is not available.
"When my son is old enough to be in junior high and high school, if there is no facility out here, I'll probably take him to Steamboat," he said.
Parents in Colorado can send students to any school they choose, as long as there is space available.
A Steamboat Springs School District count shows there are 26 students from the South Routt area who attend Steamboat schools.
The survey conducted by the steering committee also showed that 87 percent of Stagecoach homes have at least one adult working in Steamboat.
The steering committee is working to recruit more members and will hold more information sessions in the upcoming weeks. Rabon said the goal is to create the school in two years, if possible.