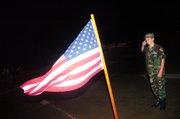 If you go
The next meeting of the Steamboat Springs Civil Air Patrol Cadets squadron is at 6:30 p.m. Nov. 4 at Steamboat Springs Airport. For more information, call Buddy Kinder at 871-7940 or 629-0258.
Steamboat Springs — Opportunities to fly, travel, learn and be a part of the military lifestyle are some of the reasons local high school students have joined the Steamboat Springs Civil Air Patrol Cadets squadron. With instruction in powered airplanes, gliders, survival techniques and a chance to attend basic training, a diverse range of activities await the jumpsuited few.
For 16-year-old Sarah Hill, Civil Air Patrol has provided some of her favorite high school moments, including opportunities to participate in camps across the state, glider rides and mass-casualty exercises.
During a meeting Tuesday night, Hill told prospective members that the program has allowed her to go to encampment, the basic training camp in Colorado Springs for cadets.
"It was one of the best weeks of my summer," Hill said. "It's awesome. Anyone who is in CAP will understand why I say you have to go at least once."
At the beginning of the week, she was yelled at by drill instructors and frightened by the strict environment, but, by the end, she had made great friends and didn't want to leave. She returned the next year as a staff member.
Squadron leader Billy Kinder said the group has about 12 active members, but he is hoping to encourage new members to join. The group meets twice a month, and if enough members are interested, they have the chance to fly every weekend in the Civil Air Patrol's Cessna 182 after they have attended encampment and earned their license.
Members also have the opportunity to attend powered and glider flight schools, wilderness training and other activities organized through CAP.
The Civil Air Patrol handles 95 percent of inland search and rescue operations in the United States, and cadets often are asked to participate, especially as ground crews.
The cadet program works in conjunction with the Civil Air Patrol squadron headed by Commander Jack Dysart. Ranks in both groups follow the Air Force system.
Kinder, who has earned the title of Cadet Chief Master Sergeant, is applying for the Air Force Academy and said the cadet program helped him with many of the basics he needed to apply for the school.
"It gives you a lot of military experience, military discipline and just the basics of flying and how to teach a class in leadership," Kinder said. "I guess it was something I never had before this program."
The group meets the first and third Tuesday of every month at the Steamboat Springs Airport.
- To reach Zach Fridell, call 871-4208
or e-mail fridell@steamboatpilot.com