Photo Gallery
Steamboat Powdercats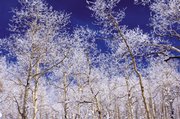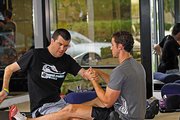 Optimist prime
Genchi's recovery progress puts hope on the horizon
Dave Genchi has found a fertile environment of positivity and healing at Project Walk's Carlsbad, Calif., facility, billed as "the most experienced exercise-based spinal cord injury recovery center in the world."
Genchi raved about the cutting-edge atmosphere in which he compares notes and trains alongside patients from around the globe. He calls them "Olympic athletes of the spinal cord recovery world." Project Walk's therapeutic approach is based on the belief that "a nervous system traumatized by a spinal cord injury can reorganize itself when introduced to proper external stimulation." That means each weekday Genchi goes in for intense two- to three-hour workouts, he's out of his wheelchair, assisted with stimulating muscle-contraction and movement-pattern exercises in hopes of reactivating latent neural pathways.
Paralysis left Genchi without use of his legs and fingers, only limited mobility in his arms and without feeling below his chest. He couldn't even sit up in a chair when he started Project Walk. But after his first six weeks in treatment he likened to a turbo charger for his nervous system, Genchi returned for a one-year anniversary trip up Buffalo Pass last December.
The articulate 33-year-old can wisely gauge the effects of his focus on Project Walk's first two rehabilitative phases of reactivation and development/stabilization, respectively. He can sustain a full day of activity now. Beyond improved strength and stamina, he also has better use of his hands and a basic ability to grip and manipulate objects - meaning he can operate a camera and work on his computer.
So Genchi continues his "amazing holding pattern," committed to keeping his fitness primed and building muscle memory in upright walking training, ever ready "for that day when the guy with the test tube finds the solution," and ever thankful for the familial Steamboat Powdercats crew - one he credits for not only saving his life by getting him quickly and safely off the pass, but also for restoring that vital next-adventure horizon to his life.
"I've seen things come back and can enjoy the ride," Genchi said. "I had the most incredible job living in Steamboat and now I have the opportunity to live an incredible life again."
By the second lap of the morning, I feel the eerie, priority-unraveling power of all the elements coming together. Rare bluebird skies herald the final day of one of the darkest, blurriest Januaries in memory and on record - one choked by 26 days of snow.
The blue-sky, white-tree contrast is sharp. The base is deep - on the way to record deep. A new 8 inches spread across the top of Buffalo Pass ripples excitement across our group of eight skiers and three guides.
Our lead guide, Bill Murphy, starts us above a pitch dubbed "UltraSweet." Before gliding into the aspens, he looks back to remind us that "the only fresh tracks are mine." The statement hangs in the air before the group begins trailing, as if Murphy needed reminding of his present fortune.
That's when I grasp the reality of his job. Someone is actually paid to earn untarnished turns - every day, every one of the 27 years that Steamboat Powdercats has been operating. For a quarter-century and counting, a core of Steamboat snow gluttons has found a way to turn powder passion into employment and to transform solitary backcountry bliss into something else entirely, something I can't quite put my finger on. Something infectious.
Wondering how I overlooked this job route, I zone out the immediate route. Suddenly there's speed from straight-lining it through the aspens and into an open field. Carving that first big turn, the popped wall of fluff reminds me I'm mouth-breathing, catching snow to lung and botching the triggered powder-day howl.
We hit the carved-out cat track where guide Todd Dills is waiting, already having turned around Hobbs, our cat for the day. Without having heard my hacked wail, only seeing a breathless grin and snow-covered pants, Dills offers his assessment:
"Well, that's what the grown-ups call full-blown giddyup," he says.
Dills, Murphy and guide Rachel Kelley, sweeping behind the last of our group, reassemble to take our skis practically off our feet, share the collective giddiness, and load up for the next lap.
After the next run, Jim Grew casts his judgment - "this is as good as I've ever had," he says of the sunny and windless day. Grew has been a Powdercats staple for more than a decade - enough days that he's even left his mark on the envelope of 10,000 permitted acres in the Routt National Forest where the Powdercats crew has free rein to label its domain. Grew earned the right to have a run named, dubiously, in his honor.
"I got caught upside down in a tree on 'Patience,'" Grew reluctantly explains. "So they had to name it 'How's it Hanging?'" And although the Floridian sees floating on powder through pines as the perfect complement to his slalom water-ski habit back home, it's this tough love with what he considers his "winter family" that brings him back.
Family is the word Mike Rakowski uses to describe the dynamic, as well. Rakowski is the salt of the operation, approaching the dual milestones this season of turning 50 and of logging his 20th season with Powdercats.
"It definitely is (a family) - we trust our lives with these guys every day, and it is one hell of a group," said Rakowski, who watched and helped Powdercats grow from a small "mom and pop" operation started by Steamboat's Jupiter and Barbara Jones to a three-cat operation with 14 guides hosting 2,200 skiers a year, a few who are third-generation guests of Rakowski's. "The type of work we do is pretty fantastic. Our guys live life."
Back in the cat, the group livens up as the sun rises higher in the sky.
The conditions explain why Mike Walton and Allen Cooke made the haul from their country village in North Yorkshire, England.
"We could ski off-piste in Val D'Isere (France) and ski all day across four valleys, but you don't get powder like this in Europe," Walton says.
Cooke adds that because of this deficiency, the only way to perfect powder turns is by stacking consecutive days of untracked turns. After sampling a few other snowcat operations since his first Powdercats foray eight years ago, Cooke notes the degree to which the trips here are tailored to his skills. The "ability level separation system" that Powdercats pioneered divides groups into three main levels - intermediate, advanced or expert - or combinations of which fit skiers' fitness and adrenaline-thirst levels.
Eight runs into the day, our Level II (advanced) trip is ready for lunch at the mid-Buffalo Mountain cabin, courtesy of Rakowski, who has pulled "lunch lady" detail in the guide rotation.
"Best lunch I've had all day," Dills ribs Rakowski, summing up sentiments of a group gone silent, enjoying the spoils of tables set with a spread of warm soup, turkey, rice and vegetables (The perks, of course, come at a price, with day trips at $400 per guest per day).
The ride up and trip down 10,379-foot Buffalo Mountain and over to the "In the Buff" ridgeline erases any food-coma effects. Grew tells me he can start to "feel a rhythm of the trees" as we trade assessments of perfectly spaced aspens on a pair of runs down "Andy's Trees." The quality of runs and their quantity - as we reach double-digit lap numbers - makes up for any desires for increased elevation drops. The continuous charging on tiring legs also keeps the challenge factor up for a regular resort skier, forcing necessary backcountry awareness of suspicious logs or stumps.
It also makes the afternoon fly by. Our trio of guides alternate on each seamless lap with one leading, one sweeping and the third driving the cat to the pickup.
Consensus dictates the deepest run should be saved for last. Kelley, the rookie guide in the bunch, gets dealt the short-stick task of breaking a tight trail to the bottom of the aptly named "World Class." Before weary legs float down one last pitch, indeed the deepest of the day, the final down-valley vantage of the nearing evening exposes the lights of Howelsen Hill in the distance and, looming past the Xcel Energy station plumes of steam, another snow-packed storm rolling in on the western horizon. And there's Kelley, now nobody's rookie, squeezing the massive cat through a gauntlet of aspens to meet us at the frozen creek bed.
I can still see Rakowski on the cabin deck, seeing our group off after lunch.
"Great way to spend a day," I throw out there.
He studies a bird silently touching down on a nearby pine branch. With a smile and pat on the back he turns and responds, "Great way to spend a life."
The simple, sage conclusion soaks in. But I continue chewing on that final piece, that infectious something I mentioned, that reason that explains why 80 percent of Powdercats' business is repeat clients or their direct referrals, until Dave Genchi spells it out later.
Genchi lived this life to its fullest for five years as a Powdercats photographer and videographer (each guest gets an image disk of the day) until it was abruptly taken away. On Dec. 21, 2006, Genchi fell victim to a freak accident during a guide-training trip on the pass, surf-turning his snowboard off a hidden rock and breaking the sixth cervical vertebrae in his spine during the ensuing, paralyzing crash. Now regaining that life at a spinal cord injury recovery center (see sidebar/page 71), Genchi's unique perspective - having processed his own experience and gained an objective sense by moving among all the trips out each day and viewing them through the camera lens - nailed down the Powdercats dynamic that will continue driving the operation forward: "You're part of an energy," Genchi said. "People that work there already have that energy because of that group, and it's synergized with a dozen people ready to have the best day out of their life. It comes together, and it's a wonderful thing."