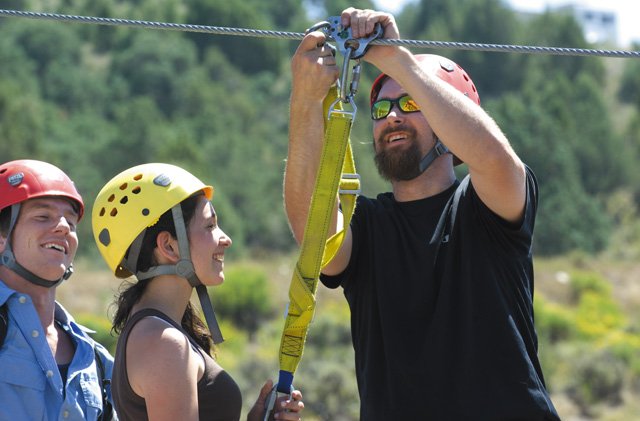 A flying fall getaway
Zip-line course provides great excuse to get caught in Wolcott
Saturday, October 25, 2008
Other attractions
Climbing and camping: From the Yacht Club junction of Colorado Highway 131 and U.S. Highway 6, head west 1.4 miles to the BLM's day-use and overnight fee picnic, boat launch and camping area (on the right) for about a half mile of direct public fishing access to the Eagle River. There's also plenty of bouldering problems in the day-use area as well as sport-climbing routes on the opposing sandstone face across the river for quality winter climbing options, although it requires a railroad bridge crossing at the eastern end of the campsites. Call Alpine Quest Sports in Edwards for more information at 970-926-2280.
Horsing around: Although its popular Wednesday night Western Family Nights conclude after Labor Day, 4 Eagle Ranch offers Belgian draft horse-drawn sleigh ride dinners four days a week starting Nov. 26 and also offers two guided winter horseback trail-ride options, Mondays to Saturdays, through Triple G Outfitters, also based out of the historic ranch homestead (970-926-3372, www.4eagleranch.c...>
The details
Zip Adventures' permit runs from May 1 to Dec. 1. For the fall, they plan on a pair of trips each weekday and three per day on the weekends. 4 Eagle Ranch is located at N 39 34.038, W 106 40.434 for those attached to handheld navigation tools. Zippers must weigh between 60 and 230 pounds, and have a minimum of four in the group (12 maximum) for the trip to go. Call ahead for reservations (970-926-9470, www.zipadventures...>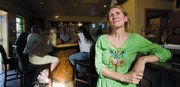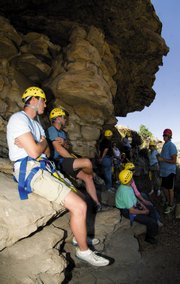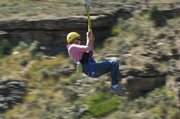 A century ago, the carriage house at 4 Eagle Ranch would greet weary stagecoach travelers heading south from Steamboat Springs to the nearest Denver & Rio Grande Railroad stop, marking the final four-mile push to the Wolcott station.
Times have changed.
The trip to the historic ranch still is 70 miles south. But it no longer takes two days to get there. And those who now make the scenic drive down Colorado Highway 131 have a different ride in store.
Flights depart daily.
Well, not total flight, but the next closest thing. To soar over a steep sandstone canyon, all you need is your own body weight, the trust to suspend it from a taught steel cable, and the willingness to step over the edge. That, a couple of hours and $125.
Zip Adventures is celebrating its first full year in operation, after a couple of years spent obtaining Eagle County special-use permits to set their course on the sudden sliver of Alkali Canyon just north of Interstate 70. The Denver Water Board owns the canyon section, leased by the current 4 Eagle Ranch - a sprawling and well-preserved ranch complex tailored for private group functions - where Zip Adventures is based. Guests meet at 4 Eagle (still exactly four miles north of Wolcott) and sign waivers that suggestively inquire about any fears or phobias before Zip guides outfit guests in climbing helmets and harnesses and load them into a quirky 1978 Pinzgauer six-by-six people-mover for the quick ride to the canyon.
Guide Kyle Maine reassures our group by citing the "overkill" design details of steel aircraft cable and anchor-pole backup systems on Zip No. 1. He clips a pair of harness-leashed carabiners onto his free-moving pulley. We watch in silence at this first effortless leap and graceful glide to the opposite side. Our other guide, Avon resident Jakob Egly, then double-checks helmet and harness points and clips for the next eager newbie.
The speed is surprising. This is not hanging onto an ordinary backyard zip-line. Gravity does all the work, and you just try to revel in the blurring surroundings and the hum of the wire, quickly figuring out the carabiner tug to steer feet forward into the landing trail.
We zig-zag our way along the canyon rim, through the series of "zips" that either increase in length or speed up to 30 mph, zipping west to east across the canyon and back again as Egly and Maine alternate between launching and catching duties. Each zip is a little different, from trying to touch a 150-foot spruce named Father Abraham on No. 3, to striking a pose on No. 4, the quickest zip on the course, to soaking in the southern panorama on No. 5, offering the highest 200-foot vantage down to the lush bottom of Alkali Creek and its confluence with the Eagle River in the distance. Then suddenly it's time for our 1,000-foot finale on No. 6, one that swoops down into the canyon and back to our starting point. At this point, now-experienced zippers toy with different positions, from the fastest cannonball tuck to the laid-back La-Z-Boy lounge.
"That was a good, long ride," Summit County's Denise Hamel said after descending the last of 3,000 total feet of cable and assessing a worthy trip over to the Eagle Valley. "It's a fun thing to do, to get out in the fresh air - plus we're always looking for things to do between the seasons."
Zip 'er up
Colorado has two other zip-line operations. Soaring Tree Top Adventures is halfway between Durango and Silverton, accessible via the Durango & Silverton Narrow Gauge Railroad and featuring 22 treetop zip-line spans through ponderosa pine and aspen stands and over the upper Animas River ($339 per person, 5,674 total feet, www.soaringcolorado.com).
Lost Canyon Zipline Adventure Tours, outside of Salida, offers a similar canyon experience to Zip Adventures with six cables and views of the Arkansas River Valley ($79 per person, 2,000 total feet of cable, www.captainzipline.com).