Recipes
Lemon-chive aioli
1 ounce fresh lemon juice
1 1/2 teaspoon seasoned rice vinegar
1 1/2 teaspoon roasted garlic
2 egg yolks
1/4 teaspoon kosher salt
1/8 teaspoon black pepper
1/8 teaspoon dark chili powder
1/2 cups Pomace olive oil
1/2 cups 80/20 oil
1 T chopped fresh chives
Combine all ingredients in a medium bowl, except oils and fresh chives, and whisk until totally combined. Slowly drizzle in oils while whisking vigorously to emulsify. When all oil has been emulsified, whisk in the chopped fresh chives, and store cold until ready to serve.
Drunken Onion blackening spice
1 1/2 cups Spanish paprika
1/4 cup cayenne pepper
2 tablespoon dry oregano
2 tablespoon dry thyme
1/4 cup granulated onion
1/4 cup granulated garlic
1/4 cup kosher salt
1/3 cup black pepper
Seared herbed polenta cakes
1 tablespoon salted butter
1 teaspoon fresh thyme - chopped fine
1/2 teaspoon fresh rosemary - chopped fine
1 teaspoon fresh garlic, minced
1 1/2 teaspoon fresh shallots, minced
2 cups vegetable broth
1 cup milk
1 cup course grind polenta
1/2 cup asiago - grated
1/4 teaspoon ground black pepper
1 1/2 teaspoon kosher salt
Saute fresh garlic, shallots and herbs in butter. Deglaze with milk and broth, then bring to boil. Stir in polenta in a steady stream, whisking hard. Stir steadily for 20 to 30 minutes over low heat until texture remains, but texture does not linger on palate. Stir in remaining ingredients. Spread a half-inch thick on a sheet pan. Chill. Cut into desired shape, and sear in a non-stick pan with very light oil until golden brown.
On the 'Net
For more information about The Drunken Onion, visit www.drunkenonion....
Costs for prepared meals
Blackened chicken with lemon-chive aioli,
$12.99/pound
Seared herbed polenta cakes, $6.99/pound
Grilled asparagus, $12.99/pound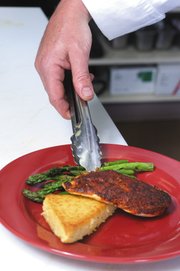 Ben Stroock doesn't like the connotation of words like "gourmet."
But the longtime chef is at no shortage of other words to describe the offerings at his Drunken Onion Get & Go Kitchen, named after the bourbon caramelized onion that Stroock thinks symbolizes the simple yet elegant nature of his food.
"All of my food is very high quality," Stroock said, "but I don't like to think of it as fancy. It's comfort food. It's a variety of comfort foods, but with flair. I want all of my food to make people feel, 'I know this, but I've never known it like this.' I want all of my food to stand out even though you may have seen it before.
"Comfort food is something that brings you back to a place. It's nourishing, simple goodness, and it's something different for everyone. It's what your mom made you when you had a bad day."
For Stroock's mother, one of those foods was grilled asparagus, a staple Stroock prepares in his shiny new kitchen in Wildhorse Marketplace near the base of Steamboat Ski Area. The asparagus will join a blackened chicken breast with lemon-chive aioli and a seared herbed polenta cake.
The Drunken Onion, which opened in June, has been in the works for years - at least in Stroock's mind. Much of the menu is made up of popular dishes Stroock prepared as a former chef at Market on the Mountain, Steamboat Yacht Club and Old Town Pub. He also was a chef and co-owner of The Main Dish, a restaurant that operated for three years in downtown Steamboat Springs.
Stroock's new business offers quick lunches and a small seating area, but its forte is takeout entrees and side dishes.
"I don't serve dinner to eat here," Stroock said. "I serve food to take home and heat up."
Stroock thinks The Drunken Onion is filling a previously unmet need for tourists and locals.
"It's a way to eat restaurant-quality food when you don't want to deal with going out," he said. "You can be in and out of here in five minutes. : People don't always want to cook but do have an appreciation for good food. We pride ourselves on the fact that we make everything from scratch."
The Drunken Onion strives for convenience, but not at the cost of compromise. Each dish comes with specific reheating instructions, and Stroock cringes at the thought of any of his food being thrown in the microwave on high for 10 minutes.
"If you do that with my food, you're going to ruin it," he said. "I don't want my dishes to be leftovers. I want them to be perfect when they're reheated."
While Stroock prepares his blackened chicken dish with the same fixings that made it "incredibly popular" at The Main Dish, The Drunken Onion's customers have the ability to customize their meals; entrees and sides are sold separately.
"That's how I do it here, so it's the customer's choice," Stroock said. "People can create their own great meal from my menu."
Customization has its appeal, but it's hard to imagine any better combination than the chef's choice as he presents his finished dish. Stroock advises eating the polenta and chicken in the same bites. The first thing to hit your taste buds is the tanginess of the aioli, and the rib-sticking polenta tempers the ever-present spice of the blackened chicken. A bite of asparagus refreshes your palate to tackle the array of flavors all over again.
"It's just a great combination of flavors," Stroock said. "This is one that works great any time of year."