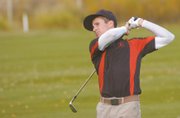 Kaelen Gunderson
Favorite club: Putter
Favorite course: Stone Ridge in California
Ideal distance: One foot
Driver distance: Just right
Strongest part of your game: Iron play
Lowest score at Yampa Valley Golf Course: 75
Toughest part of Yampa Valley Golf Course: The greens
Pre-round routine: I tell myself, "Don't screw up." Then, I grip it tight and hope for the best.
Anticipated plans after high school: College
Favorite golfer: Boo Weekley
Best high school moment in golf: Killed a goose with a divot fixer
Expectations at state: Stay calm, play smart and shoot low.
Lowest round ever (where and when): 74 at state last year.
Best part of high school golf: Hanging out with friends
Favorite sport: Hockey and golf
Other activities: Doing work and hanging out with my amazing girlfriend.
Scott Ptach
Favorite club: Hybrid 2i
Favorite course: Cobble Creek or Haymaker
Ideal distance: 135 yards
Driver distance: 270 to 290 yards
Strongest part of your game: Chipping
Lowest score at Yampa Valley Golf Course: 78
Toughest part of Yampa Valley Golf Course: Holes 1 though 5
Pre-round routine: Putt, hit golf balls, visualize and calm down
Anticipated plans after high school: Go to college and maybe ski in college
Favorite golfer: Anthony Kim
Best high school moment in golf: Shooting a 74 at Cobble Creek with a double on the last hole.
Expectations at state: Two rounds in the 70s
Lowest round ever (where and when): 74 at Cobble Creek this year
Best part of high school golf: Practice, candy bars and playing tournaments
Favorite sport: Ski racing
Other activities: Ski racing, hunting, lacrosse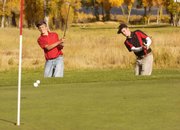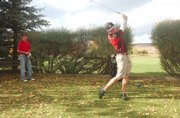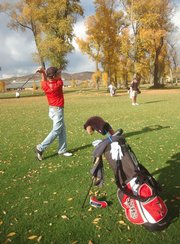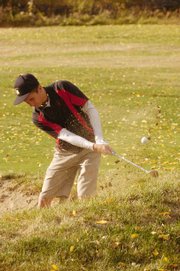 Steamboat Springs — Expectations haven't been tempered for the Steamboat Springs High School golf team.
Despite not making Monday and Tuesday's state championships at Yampa Valley Golf Course in Craig as a team, the two individuals the Sailors are sending certainly have high hopes.
Both juniors, Scott Ptach and Kaelen Gunderson, made the state tournament last year and finished tied for second at the regional tournament in Aspen to qualify for this year's championship.
The two also might have the most knowledge of the course among the 84-player field, considering they have played in Craig multiple times.
Add in that coach Steve Dodson might have the most sub-par tournament rounds at Yampa Valley Golf Course in the state, and Monday and Tuesday's championship sets up well for the Sailors.
"We went over on Monday and got in extra practice. I think that Kaelen and Scotty are pretty confident on what to hit off certain tee boxes and where to go and where not to go," Dodson said. "Really, it's just a matter of executing a game plan."
That game plan will include a lot of course management. While the yardage and the course layout in
Craig don't scream "tough," easy rounds simply won't be the case.
In addition to making holes No. 1 and 15 into par 4's - the two normally play as par 5's - the greens will be cut twice and rolled.
Staying below the hole, being in the right spot around the greens and putting will be at a premium Monday.
"I think it's going to be very challenging," Steamboat Assistant Coach Scott Berry said. "I would be surprised if someone shoots under par to win. : People have to understand, a two-foot putt from above the hole is much more difficult than a 10-foot putt below the hole."
Still, Ptach and Gunderson enter the tournament knowing their games set up well for the Craig course. Gunderson might be the best putter in the region, while the strength of Ptach's game rests in his ability around the greens.
"My goal is a pretty high goal," Gunderson said. "I want to finish in the top three. I'm playing real solid. Two or three over both days, I'd feel pretty good with that. I'm hitting the ball as good as I ever have hit it."
Although Gunderson is struggling a little with his short game, both players said their familiarity with the course and the fact that both have been on the big stage before should help each player finish near the top of the field.
"It's going to take getting up and down and chipping," Ptach said. "The front nine is tough with all those small greens. Your putting has to be good, too. It's kind of your whole game at Yampa Valley Golf Course."
That's fine with Berry and Dodson, who think they have a pair of well-rounded golfers ready to go low come Monday.
"They can both finish in the top 15, but potentially top 5," Berry said. "That's extraordinary golf, but they're both capable of doing it."