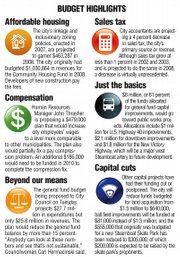 Proposed budget
The city of Steamboat Springs 2009 proposed budget will be presented to City Council on Tuesday. The all-day budget hearing begins at 8 a.m. Public comment is scheduled from 2 p.m. to 3:30 p.m. Once revisions and amendments are made, the budget will be adopted by City Council at a meeting later this year.
If you go
What: Steamboat Springs City Council budget retreat
When: 8 a.m. Tuesday
Where: Centennial Hall, 124 10th St.
Call: City offices at 879-2060 for more information
Agenda
8 a.m. Presentation of the proposed budget
8:30 a.m. Adoption of 2009 fiscal policies
9:45 a.m. General fund operations budget
10:45 a.m. Enterprise funds budgets
11:45 a.m. Internal services funds budgets
12:30 p.m. Five-year capital improvement program
1:30 p.m. Community Support Allocation Committee
2 p.m. Public comment
3:30 p.m. Review of revisions and amendments, wrap-up
Steamboat Springs — There's always next year.
For the second year in a row, city staffers and politicians alike are decrying unsustainable fiscal practices in the city of Steamboat Springs' proposed budget. And for the second year in a row, budget season is poised to come and go with no major modifications to spending habits, but instead with a vow to make changes in time for the following year.
Last year, community support spending took center stage as former City Manager Alan Lanning and acting Finance Director Bob Litzau slashed that part of the budget by 30 percent to send a message to the Steamboat Springs City Council that it needed to bring "a larger internal focus to the budget process." Community support spending was not only restored, but it increased 6.27 percent.
This year, an expected decline in city revenues and a weakening national economy have brought urgency and poignancy to budget discussions. City Council already has directed tough budget cuts this year - including major reductions in community support spending. But the 2009 proposed budget continues the city's practice of spending more than it earns. Expenditures have exceeded
revenues in the general fund of the city's adopted budget for every year since 2005 - most notably in 2007, when the difference was nearly $2.4 million. That difference shrunk to about $100,000 in the 2008 budget.
But this year, the gap is $1.9 million wide in the city's general, or operating, fund, where $25.8 million in revenues is outmatched by $27.7 million in expenditures.
The city's entire proposed budget - which includes a capital projects fund, enterprise funds and other funds in addition to the operating budget - shows expenditures besting revenues by $11.6 million, at $58.8 million and $47.2 million, respectively.
"We're not living within our means," acting City Manager Wendy DuBord said Thursday. "We have decreasing revenues and increasing expenses, and we can't continue to do that. We're using reserves to balance this budget in both operating and capital."
On Tuesday, DuBord and Finance Director Lisa Rolan will present their 2009 proposed budget to the City Council during an all-day meeting at Centennial Hall. Council will provide direction, revisions and amendments covering all aspects of the budget and will be asked to adopt a set of fiscal policies. And, given the current economic outlook, DuBord said council members also might be asked to put all major spending on hold until after the first quarter.
"Certainly, the economic climate's not taken a turn for the better since we put the budget together," DuBord said Monday. "It's possible we may have to consider additional contingency plans for 2009."
Since sales tax is the city's primary source of revenue, DuBord said it might be appropriate to postpone all major equipment purchases and capital projects until after the first quarter to see how ski season sales tax receipts are matching up with expectations.
"The first part of the year is a major indicator of what our revenue stream is going to be," DuBord said.
The city did the same thing in 2002 following the Sept. 11 terrorist attacks, DuBord said. For 2009, DuBord said a hiring freeze through the first quarter also is being considered.
"That may be a really appropriate thing to do until we see what sales tax does in the first quarter," Councilman Jon Quinn said Monday. "There's not a lot of wiggle room (in the budget). It's not like we have a whole lot to play with after we take care of core services."
Litzau, who has since returned to his role as assistant finance director, said the city's use of reserves to balance its operating budget is troubling.
"As a rule, you want to use reserves for one-time expenditures, normally capital," Litzau said. "The use of reserves is not a revenue stream."
However, Litzau also noted the reserves also are viewed commonly as a "rainy-day fund," in which case their use to balance the 2009 budget isn't necessarily inappropriate.
"I think the rainy day is here," Litzau said. "The question is, how much rain are we going to get?"
A new approach
"The problem with Steamboat right now, because we don't have a very sophisticated budget system, is we're shooting in the dark," Councilwoman Cari Hermacinski said.
In an effort to sophisticate the budget, city officials have said they plan to spend the next six months prioritizing the services they provide.
"It's time for the management team to sit down and say what's important," Rolan said. "And what are we doing that's being duplicated?"
DuBord said a prioritization of services would allow the city to separate the essential from the nonessential and identify what could be reduced, eliminated or provided by another agency. And in a year like the current one, Hermacinski said a ranked list of services would allow City Council to cut services from the bottom up. The budget's current organization, Hermacinski said, makes it too hard to know what the consequences of certain cuts would be.
"For example, I see personnel increasing big, but I don't know what services they're providing," Hermacinski said. "How can I, or any other citizen, look at that and say we should cut that."
A ranked list of services, Hermacinski said, "provides a basis for debate."
"Unfortunately, it's a little complex to implement," she continued. "We want to develop this list of things right after the budget is over. : We probably need to give the community time to debate it if we're going to cut services."
Other budget notes
- Debt service on the Iron Horse Inn, purchased by the city in 2007, will cost the city $339,103 in 2009, plus operating expenses projected at $113,360. However, the city expects to collect $600,000 in rent, for a net profit of $147,537. The surplus will be devoted to the city's employee housing fund.
- A $1.5 million project would combine Spring Creek drainage improvements with a trail underpass beneath Fish Creek Falls Road.
- Increases in building permit fees, the valuations used to determine building-use tax, tap fees and water fees all are being considered. Rolan had this to say about the city's water infrastructure needs and the money to pay for improvements: "If (Public Works Director) Philo (Shelton) does everything he's supposed to do this year, there'll be nothing left in the water fund."
- Passionate pleas regarding the city's community support spending are expected when City Council takes public comment at 2 p.m. Tuesday. While a relatively small part of city spending, community support funding is a personal issue for supporters of the arts and other Steamboat Springs residents. The city's Community Support Allocation Committee is proposing major, across-the-board cuts. For example, it is recommending $16,000 for the Steamboat Art Museum, which received $34,000 in 2008 and requested $50,000 in 2009; $25,000 for the Steamboat Springs Free Summer Concert Series, which received $40,000 in 2008 and requested $45,000 in 2009; and $5,000 for Yampa Valley Partners, which received $11,500 in 2008 and requested the same amount in 2009.
- Two staff positions are being requested in the 2009 proposed budget, one each in the city's Information Technology and Human Resources departments. Litzau said the Human Resources Department is the same size, two people, that it was 15 years ago when the city's staff was a quarter of its size. The city has three people in IT, which Litzau said is too small for an organization with more than 200 computers and about 20 servers. "They're running themselves ragged," he said. "The information is what keeps this organization running."
-To reach Brandon Gee, call 871-4210 or e-mail bgee@steamboatpilot.com
The city of Steamboat Springs 2009 proposed budget will be presented to City Council on Tuesday. The all-day budget hearing begins at 8 a.m. Public comment is scheduled from 2 p.m. to 3:30 p.m. Once revisions and amendments are made, the budget will be adopted by City Council at a meeting later this year.