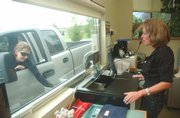 On the 'Net
www.fdic.gov/edie/
Estimator calculates FDIC insurance coverage for each FDIC-insured bank where you have deposit accounts.
Definitions
Capital: Wealth (money or property) owned or used in business by a person, corporation, etc.
Conforming mortgage: A conventional single-family mortgage loan with an original principal balance that is equal to or less than the applicable conforming loan limit, which is the applicable maximum original principal balance for a mortgage loan that we are permitted by our charter to purchase or securitize. The conforming loan limit is established each year by OFHEO based on the national average price of a one-family residence. The current conforming loan limit for a one-family residence in most geographic areas is $417,000.
Subprime mortgage: Generally, a mortgage loan made to a borrower with a weaker credit profile than that of a prime borrower. As a result of the weaker credit profile, subprime borrowers have a higher likelihood of default than prime borrowers.
Sources: Webster's New World Dictionary, Fannie Mae
America's economic challenges have brought forth a whirlwind of words. One of which, some observers said, is misleading: bank.
Steamboat Springs bankers want to make sure residents aren't dashing to empty their checking accounts as the troubles of investment banks create unhappy headlines. Commercial and retail banks don't operate the same way, said Wade Gebhardt, business banking manager at Wells Fargo in Steamboat.
Others agreed.
"The majority of banks in smaller markets : aren't part of the subprime lending causing the stress and the anxiety for the banks that you read about and hear about on the news," said John Kerst, president and chief executive at Yampa Valley Bank.
The crux of the problem, Gebhardt said, is that some investment banks were heavily involved in those subprime mortgage market. When that soured, those banks' assets lost much of their value. That's where the turmoil started, Gebhardt said.
But about 98 percent of the more than 8,000 U.S. banks are well capitalized, Kerst said.
That "means they have capitalized funds and reserves to get through the tough times, and the majority of banks are doing fine," Kerst said.
Dean Vogelaar, president of the Steamboat branch of Mountain Valley Bank, touted the virtues of local institutions.
"Community banks are really a safe haven for people to have money and the reason is, No. 1, most small banks : have got good managerial strength," Vogelaar said. "We really pay attention to what goes on under our roofs; we are very tightly regulated; our accounts are FDIC insured as long as they meet those limits; we are well capitalized; we have reserves."
What about mortgages?
Tim Borden is chairman of Yampa Valley Bank and other banks in Colorado and Wyoming. The mortgage industry has little effect on community banks, Borden said. That's because, in most cases, the smaller banks handle only part of the mortgage process. They then sell the mortgages to larger lenders, such as Freddie Mac and Fannie Mae.
Those companies are solid after receiving help from the U.S. government, Gebhardt said.
"Housing costs and rates are very low," he said. "If you have a decent credit score and 20 percent to put down, and if you're under the general guidelines for Fannie Mae and
Freddie Mac, you're generally OK."
Those mortgages fall under strict rules, bankers said, which makes them safe.
Folks who want other types of loans, such as jumbo mortgages, might have a tougher time getting them, Gebhardt said. That's because larger lenders are hesitant to take those on, he said, so banks must front that money. Many are hesitant to do so.
Regardless, the real estate scene in the Steamboat area is relatively solid, bankers said.
"Right now in Steamboat, we have absolutely no, absolutely zero real estate loans that are more than 30 days past due," Borden said. "There's just very few foreclosures going on in Steamboat."
Potential issues
Borrowers could experience a tightening of credit, however, Gebhardt said, although he hasn't seen that yet. But it wouldn't be banks' fault, he said.
If businesses are expecting to make less money because of the economic downturn, they will get less credit, Gebhardt said.
"Let's say contractor, their accounts receivable goes down from $1 million to $800,000, so on a borrowing base certificate they would show that there's not as much collateral, so they would not get as much credit," he said.
Safety
Wells Fargo is a large but conservative bank, Gebhardt said, which has kept it safe. Although Wells Fargo has logged three straight quarters of profit declines, The Associated Press reported, the bank has been weathering the credit crises better than many competitors, in part because it had less exposure to subprime mortgages.
The bank plans to acquire troubled Wachovia, the AP reported, though Citibank was protesting the deal Friday. Wells Fargo's stock price was increasing after the news.
Other local institutions also are safe, bankers pledge. They know their communities, and in many cases, their money stays in the county. Safeguards are in place to protect customers.
Being conservative is smart, Vogelaar said."When we see the economy slow down, when we see those things, it's our job to really study it," Vogelaar said. "And maybe we are a little more conservative, and I think our depositors would want us to do that."
Borden said he would recommend to his mother that she put her money in a community bank.
Greg Dixson, regional president at First National Bank of the Rockies, echoed that confidence.
"We have eight great banks in town with great leadership, and they need to trust that leadership and that it's FDIC-insured," he said. "I think problems arise when people start putting cash in their mattress or any place that's not safe."
He and the other bankers said they are aware of consumers' concerns and are keeping an eye on the U.S. economy.
"We weren't the cause of this problem," Dixson said, "but we sure as heck can be part of the solution."