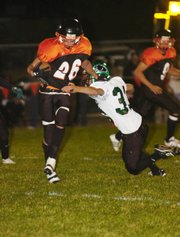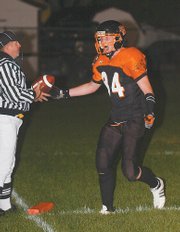 Game statistics
Rangely Hayden
9 First Downs 15
13-31 Rushes-Yards 32-360
13-33-0 Comp-Att-Int 4-5-1
137 Yards Passing 122
168 Total Yards 482
6-36 Punts-Avg. 2-32
3-2 Fumbles-lost 3-1
7-53 Penalties-Yards 4-30
SCORE BY QUARTERS
Rangely: 00-07-00-00 - 07
Hayden: 13-14-14-06 - 47
SCORING SUMMARY
First Quarter
H: 11:02 Jake Walker 59-yard run. (Kick failed.)
H: 7:45 Mitchell Vedepo 25-yard pass from Mitchel Doolin. (Ty Dunckley kick.)
Second Quarter
H: 7:30 Walker 35-yard pass from Doolin. (Dunckley kick.)
R: 4:19 Travis Witherell 9-yard pass from Kanden Brady. (Michael Morton kick.)
H: 3:17 Coy Letow 37-yard run. (Dunckley kick.)
Third Quarter
H: 9:18 Walker 55-yard run. (Dunckley kick.)
H: 3:07 Letlow 44-yard run. (Dunckley kick.)
Fourth Quarter
H: 11:42 Ben Fulton 54-yard pass from Graig Medvesk. (Kick failed.)
INDIVIDUAL STATISTICS
Rushing:
R: Witherell 7-35, Clark Worrall 1-6, Brady 4-8, Kody Denny 1-4.
H: Letlow 13-178 2 TD, Logan Foster 3-26, Walker 3-122 2 TD, Ethan Armstong 2-6, Medvesk 2-9, Dayton Dowling 2-2, Brian Hoza 5-42, Dakota Zehner 2-2.
Passing:
R: Brady 13-31-0 137 yards 1 TD, Denny 0-2-0.
H: Doolin 2-60-0 1 TD, Medvesk 2-3-0 62 yards 1 TD.
Receiving:
R: Witherell 5-42, Worrall 1-5, Adam Dahl 3-30, Brandon Gray 2-21.
H: Vedepo 1-25 1 TD, Walker 1-35 1 TD, Treyben Letlow 1-8, Fulton 1-54 1 TD.
Steamboat Springs — Hayden junior Jake Walker entered the football season as the No. 2 tailback. At many high schools, that might mean a chance to shine.
But playing behind superb Tiger senior Coy Letlow, that's not always the case - or at least it wasn't until Friday night.
Walker exploded for 122 yards on the ground Friday and two touchdowns, all on just three carries. He added another score on a 35-yard pass as the Tigers routed Rangely to win their homecoming game, 47-7.
"That's what you want on Homecoming," Hayden coach Shawn Baumgartner said. "We do need to be more crisp with some things, but we did a lot well tonight."
Walker scored his first touchdown just 58 seconds in and on the third play of the game. Fourth in the 100-meter dash at last spring's Class 2A State track meet, Walker showed all his speed, blazing around the right side of the offensive line for a 59-yard score.
He went the distance again in the third quarter, this time from 55 yards out.
"I went in with my mindset that I wanted to score early, and the blocks were all perfect," Walker said.
All that isn't to say Letlow didn't provide some highlights of his own. He picked up 178 yards on 13 carries, also adding two touchdowns.
Mitchell Vedepo followed Walker into the endzone early in the first quarter, scoring on a 25-yard pass from senior quarterback Mitchel Doolin. Walker's receiving touchdown then came early in the second quarter, all before Rangely had a chance to respond.
The Panthers' lone touchdown drive came in the second quarter when Travis Witherell hauled in a 9-yard pass from Kanden Brady. They ran a passing spread offense and were able to find some holes through the air and on the ground early. Brady finished with 137 yards through the air, one touchdown and one interception.
"We had to make some adjustments. They did a real good job in the first half running the option and running their quarterback, too," Baumgartner said.
Hayden had a 27-7 lead at half and didn't let up in the third quarter. The defense only played better and after one big passing play, was able to limit Brady by applying constant pressure.
Hayden junior Ben Fulton went 54 yards with a Graig Medvesk pass early in the fourth quarter. That touchdown was enough to establish a 40-point lead and set up a running clock for the rest of the game.
"Now, we need to learn to take Hayden football on the road," said Walker, looking forward to next Friday's Western Slope League showdown at Hotchkiss. Hayden (4-2) is just 1-2 on the road this season.
"We have to get focused for that one," he said.