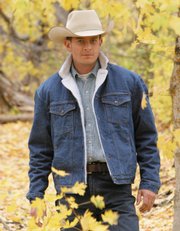 Key points
¤ Trail ride with Brenn Hill
¤ 10 a.m. to 2 p.m. Saturday
¤ Elk Run Ranch, 44885 Routt County Road 46B
¤ $100; riders must take their own horse; event includes a barbecue lunch and live music by Brenn Hill; presented by the Routt County 4-H Scholarship Committee
¤ 879-0825
¤ Brenn Hill, Routt County 4-H annual fundraiser concert, cowboy music
¤ 4 to 8 p.m. Sunday
¤ Saddleback Ranch, 36350 Routt County Road 179
¤ $25 for adults, $10 for children ages 7 to 18, free for children ages 6 and younger; event includes a barbecue dinner. Tickets available at Mountain Valley Bank, Elk River Farm and Feed, Flat Tops Ranch Supply and the Routt County Extension Office.
¤ 879-0825
It's not that Brenn Hill feels obligated to keep coming back to perform in the Yampa Valley. It's just that it makes a lot of sense for what he does - crafting songs about the West and the way ranching has shaped it.
"The fact that there are still people living that lifestyle in food and agriculture production in that part of the world is one of the reasons that I feel like I have to keep the Yampa Valley as a part of what I do," Hill said.
For his fourth appearance at the annual Routt County 4-H Scholarship Committee benefit concert, the Utah-born Hill said he hopes to give back to the agricultural community that inspires his songwriting.
"You know, it's still one of the few epicenters left in the West for ranching and agriculture, and the people there have just very warmly accepted my music over the years and made it a part of their lives," he said.
In an event new to the fundraiser this year, Hill will lead a trail ride and campfire concert Saturday. He hopes the ride will put him in an ideal state of mind for a cowboy musician.
"I'm always more inspired when I'm on the back of a horse," he said. "That's really where my music begins. It's kind of how I feel the inspiration. Especially this time of year with the fall coming on, I try to get on the back of the horse and go gather cows and live that life, and that's really where I try to begin my music."
By telling stories from the ranching West in song, Hill said he feels some responsibility for preserving that musical culture.
"Over our history, there are an awful lot of singing cowboys. There's something about that life that translates into music really, really easily," he said.
Even if he's not likely to run out of topics - Hill takes most of his songs from life experience - there is a chance of running into walls built by tradition.
"At odd times throughout my career, that's been maybe even somewhat burdensome, because I do not necessarily confine myself to only one genre of music for inspiration. I have a broad interest - my musical palette is very broad," he said.
"But needless to say, I live in and love the West. And I think I have a pretty integral understanding of ranching, and not just the people necessarily who are lucky enough to live that lifestyle, but of the people who are sensitive to it. It is the story I know the best and that I tell the best."