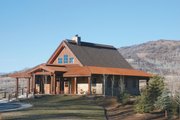 Community protects 900 acres of open space
Alpine Mountain Ranch & Club is a 1,216-acre land preservation subdivision currently proposed to include 63, 5-acre home sites. Twenty lots are designated as "contingent lots," meaning final approval would require the developers to acquire additional land on the valley floor to be designated as open space.
About 900 acres have been set aside as conserved open space, including a 500-acre wildlife preserve on a south-facing slope north of Priest Creek. Haying operations continue on the property.
A large pond on the property, soon to contain trout, was created by the excavation of gravel for the lengthy network of internal subdivision roads. The practice eliminated the need for many truck trips that would have been required to build the roads with gravel from distant pits.
The ranch developers have secured the availability of memberships for owners at the nearby Catamount Ranch & Golf Club.
In a climate of economic uncertainty, the developers of Alpine Mountain Ranch & Club have resolved to take action.
With three community buildings and a ranch manager's residence already completed, a group of investors close to the developers of Alpine Mountain Ranch & Club have decided to take the next step themselves. They will begin building the first multi-million dollar home on the sprawling property just outside of Steamboat Springs next spring.
A separate development entity that includes Alpine Mountain Ranch principals Bill Butler and Andy Daly has closed on the purchase of home site number 15 for $1.65 million and begun site preparation for a 7,200-sqaure-foot residence. It will be the first home built at Alpine Mountain Ranch & Club. The state lots there, with views of the ski trails at Mount Werner and across the South Valley to the Flat Tops, were introduced to the brokerage community during a reception thrown by the developers at Hazie's restaurant atop the Steamboat gondola in April 2006.
To date, nine home sites have been sold, and two more are pending among the 43 home sites in the first release, according to the developers. Of the nine closings, five took place in 2008. But none of the owners has initiated plans to build.
The intent of constructing what amounts to a multi-million dollar model home, they say, is to allow prospective buyers to visualize the design vision and standards for single-family homes at the shared ranch community.
"Having a locally-designed feature home for sale on a spectacular home site is a big investment and should set the tone for future homes in Alpine Mountain Ranch & Club," said newly appointed Chief Operating Officer Bill Reid.
Alpine Mountain Ranch already has its lengthy internal road network built with partial paving and a substantial bridge over Walton Creek. The ranch manager's residence and a horse barn also have been built, along with a small cabin called The Hermitage, which reflects Butler's desire for owners to have a retreat that allows contemplation and reflection.
Also in place is the less glamorous but important community water system with its own filtration and pumping plants plus a 75,000-gallon storage tank.
However, the owners' lodge is the signature building standing at Alpine Mountain Ranch this winter, with a soaring ceiling and a catering kitchen to allow owners and the Steamboat community to share social functions.
The new single-family residence being undertaken by the investment group likely will trump the owners' lodge with its modern two-story indoor water feature. The home has been designed by KSA Architects of Steamboat, Reid said. It will incorporate green-building practices, extensive use of stone and reclaimed barn wood siding.
Carolyn Bird, senior sales associate at Alpine Mountain Ranch, said design guidelines allow for two general styles of residences. One is described loosely as mountain contemporary, and the second is Colorado regional style. Of the two, the latter is more traditional. The new model house will be emblematic of mountain contemporary. The building sites planned for the contemporary approach to mountain home design will be those that are protected from distant views, she added.
Although permits are in place for the model home and David Zehner, of Precision Excavating, has begun preparing the site, vertical construction will not begin until the construction season of 2009, Reid said. He anticipates putting the project to bid and awarding contracts in the spring. The plan is to share the retail price with area Realtors soon and offer a during-construction price reduction.
Reid, a veteran of 25 real estate development projects, said Alpine Mountain Ranch & Club represents his third serving as the chief operating officer.
The past three years were spent working on a new development in Driggs, Idaho. Before that, he was instrumental in the development of Teton Springs. Both are in the Teton Valley, where real estate sales are slumping on the west side of Teton Pass in Idaho, opposite Jackson, Wyo.
Reid said the first time he set eyes on the Yampa Valley was in the fall when he interviewed for his new job. However, he has roots in the Colorado Rockies. His grandparents taught school in Basalt, and his father cowboyed around Glenwood Springs before World War II.
The first thing he noticed about Alpine Mountain Ranch & Club was its location, he said.
"There's a world-class ski area on one side and a golf course on the other side, and Bill and Andy didn't have to build either one," Reid said. "I can't imagine a more ideal location."
Reid said he has done in-depth target market research on mountain resort communities and their likely customers. He notes that two million baby boomers turned 50 last year and four million more are set to do the same this year. Those people are beginning to look at their portfolios and envision an exit strategy, he said.
"Of course, the fact that they lost 30 percent of their net worth this year is a problem," he said with a wry smile.
Still, he said, Steamboat matches up well with several driving factors that motivate a large share of retiring baby boomers.
"There is a passion among baby boomers to return to rural values and quieter times," Reid said.
There's also a growing desire to be able to live close to nature and wildlife in a place with protected night skies.
Even stronger, he said, is to provide a family environment for adult children and grandchildren where people feel secure and also have the ability to pursue diverse forms of education - from fishing to chamber music recitals, for example.
"Boy, does Steamboat fit that," Reid exclaimed.
Having said that, he was quick to add that the prospective buyers for Alpine Mountain Ranch & Club are "high-net-worth buyers."
"They won't invest $5 million to $8 million here without asking, 'What's the history (of real estate investments in Steamboat)?' and the history here is darn good," Reid said.