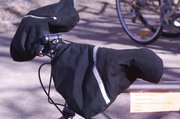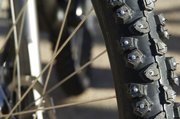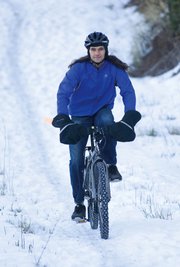 Winterizing your bike
Ice, snow and cold prompt most of us to put our bikes in the garage this time of year. But year-round commuter Essam Welch says that with a few extras, there is no reason to stop riding when the snow starts falling.
On Welch's list of must-have items:
- A good pair of Nokian studded tires ($50-$100 a tire) can make the road less threatening.
- A pair of extra wide fenders (about $30) can keep the snow, slush and water off your clothing.
- A 5-watt DiNotte 200 Series LED Light ($170) can brighten those dark early morning or late afternoon commutes. But Welch said there are several less expensive options to light the ride home, ranging from $30 or more.
- An oversized mitten that fits over the handlebars and shifters. The device allows a biker to ride barehanded and avoid the problems associated with trying to shift your bike or braking with gloves. On colder days, a thin pair of gloves or liners can be worn inside the bike pogie for added warmth.
- Disc brakes and an internal gear system. Older bikes can be fitted with an updated sealed gear system for about $300. Open gear systems that are properly cared for also work well.
It's only 2 miles from Deborah Improta's downtown home to where she works on Shield Drive.
In the summer, riding her bike along the Yampa River Core trail is a breeze - but in the winter, she likes to think of it as more an adventure.
"I love the sparkling bright mornings when I'm riding my bike to work," Improta said. "It's a nice adrenaline rush by the time I get to work."
Thanks to a pair of studded tires, a bright light and an extra layer of warm clothes, Improta's biking routine continues even after the temperatures and flakes start to fall in the Yampa Valley.
"I ride my bike to work whenever I can," she said. "I think it's faster than driving my car. By the time I get done digging the car out of a snow bank, I could have gotten to work on my bike."
She could credit her dedication for riding her bike to the high price of gas in the valley or to the congested highways and streets in Steamboat Springs, but she doesn't. Improta says she just enjoys riding her bike to work, even in the winter.
"It's a chance to get your blood flowing before you get to work," Improta said. "Sure, it can be cold, but I just bundle up, and I don't really notice."
Steamboat's Essam Welch says he's been commuting to work on his bike for as long as he can remember. But he noticed something different last winter, after gas prices hit new highs.
"It used to be that when I biked to work, the tracks in the snow were always mine," Welch said. "But last winter, I saw a lot of tracks in the snow - and they weren't all mine."
Welch, who works at Orange Peel Bicycle Service in downtown Steamboat Springs, estimates there are about 200 people who use the bike path in the winter. They are not all commuting to work, but a lot of them are.
"It's kind of adventurous," Welch said about riding his bike to work in the winter. "It's economical, it's a healthy habit, and it's safer and more pleasant."
Steamboat Ski and Bike Kare manager Derek Hodson also saw an increase in the number of cyclist commuting to work last winter. His store offers studded tires and bike service through the winter.
"There is no question that people ride their bikes year round in Steamboat," Hodson said. "We saw a lot more people riding last winter."
He said one of the most important things is to make sure that the bikes have been serviced and that the chains and gears are properly cared for with a waterproof and windproof lubricant such as White Lightning or Finish Line.
He said the snow, ice and moisture that comes along with winter can be demanding on any bike. Taking care of the bike can help a commuter avoid unwanted issues.
Some other tricks include lowering the pressure in tires and lowering your seat for better balance. A good helmet is a must, and everyone agrees that cyclists must be more aware of traffic in the winter.
"Traffic is a real issue," Welch said. "Drivers are not looking for bikes in the winter, so you need to be even more aware of your surroundings. I always try to make eye contact, or I'll make sure I have plenty of room."
Welch also uses the bus system to skip over areas where he thinks the traffic is too dangerous to ride in the winter - and he expects the season's wear-and-tear on his bike.
"You don't want to use your racing bike in the winter," Welch said. "What you need is a nice commuting bike with a few extras."
Clothing also can make a big difference.
Improta suggests leaving a change of clothing, or at least a nice pair of shoes, at work in the winter. Welch says he used an older jacket and a pair of ski pants to fend off the wet weather he sees during a commute.
"I normally dress like I'm going skiing," Improta said. "That way, I'm ready for anything."