Past Event
Thursday, December 4, 2008, 7 p.m.
United Methodist Church, Eighth and Oak streets, Steamboat Springs
Not available / $5 - $10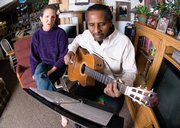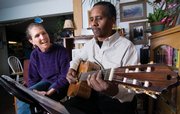 "This will be my opener," Pam Pierce said, listening to Neil Marchman play the guitar chord progression for "Let It Snow." "Hopefully we won't have to be pleading to let it snow by next week."
Rehearsing in Pierce's living room Wednesday morning, the voice-and-guitar duo worked through seasonal tunes and jazz standards, preparing for Pierce's appearance in an Emerald City Opera Resident Artist Spotlight Concert. Pierce and Marchman join the Emerald City Jewel Singers for a concert at 7 p.m. Thursday at United Methodist Church.
Before she got involved with Emerald City Opera, Pierce had let her love for singing lag. But after singing in the Steamboat Springs opera company's chorus for its first four seasons, recording a CD of favorite songs and throwing herself a concert for her 50th birthday, Pierce has embraced performing.
"Since I was a very small child, I was harmonizing and singing, but life happens, and you don't get motivated to do things until something happens," she said. Her Resident Artist Spotlight Concert program includes seasonal favorites such as "Winter Wonderland" and jazz charts such as "Way You Look Tonight."
"Since I sing covers - or reinterpretations, I think they call them - I think people will be familiar with the music," Pierce said. Running through some of those songs in her home, Pierce's mellow alto voice warmed the room. She avoids unnecessary embellishments, opting for a vocal ease that never sounds forced.
"I like to tell people that I will not scream at you, and I will not whine," she said. "I just want it to be very easy to listen to. That's how I consider my voice to be."
Proceeds from the concert will go toward a scholarship for a graduating high school senior to study voice performance in college. Pierce, a longtime volunteer for Emerald City Opera, said she hopes her song selection will offer a different sound for the Resident Artist series.
"Usually they're more classical, so this will be a divergence from that idea," Pierce said. In the next few months, she hopes to branch out, following her love for singing the classics to book performances at venues around town.
"It was back in those early opera days that I actually starting singing seriously," Pierce said. "I've always been more of a classical singer, and I decided I wanted to sing solo."