October statistics
Real estate sales in Routt County totaled $49,635,100 in October, down 50 percent from the $100.5 million in October 2007. October 2006 racked up $124.7 million in sales.
The drop in dollar volume was not as steep as experienced during the preceding three months, thanks in part to three sales of $4.5 million to $4.65 million. All three involved acreages, and two of those were homes plus acreages.
Last month saw 68 transactions close, compared to 159 in October 2007 and 262 in October 2006.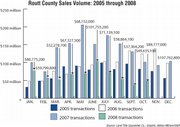 Steamboat Springs — A 35-year-old, three-bedroom Stagecoach Townhouse comparable to one that sold in late July for $268,000 now can be had for as little as $214,000.
In the midst of a real estate slump, homes priced between $200,000 and $300,000 were part of a bright spot in Routt County during October. And one of the best values was found in the original Stagecoach development overlooking Stagecoach Reservoir, about 18 miles south of Steamboat.
Bruce Carta, of Land Guarantee Title Company in Steamboat Springs, reported that a dozen homes in that price range sold during the first month of the fourth quarter. Of those, 10 transactions have come through the Steamboat Springs Multiple Listing Service.
Doug Labor, of Buyers Resource Real Estate, reported October's entry-level sales came in a variety of projects including The Pines and Shadow Run at the base of the ski area, both sales for $225,000. There also was a sale of a two-bedroom, two-bath condominium at The Timbers, on the shoulder of Rabbit Ears Pass, for $261,000. A house in Hayden sold for $287,000, and a home in Craig, which was listed with the Steamboat MLS, sold in that price range.
A two-bedroom, two-bath townhome at Whistler Village that was listed at $285,800 sold for $265,000.
"Those are people who are moving to Steamboat for a reason," i.e., to take a job, Labor said about the October entry-level buyers.
The Stagecoach Townhouse, listed by Beth Walsh, of Colorado Group Realty, was priced at $220,000 and sold for $214,000.
Built in 1974, when the effort to establish a new ski area at Stagecoach was in full swing, the townhouse sits on a wooded lot overlooking the lake and bordering a green belt. It comprises 1,416 square feet (the asking price represented a price of $155 per square foot). The owners may use a wood stove in the living room to augment electric baseboard heat.
The townhouse on Schussmark Trail went under contract Aug. 14; the Realtor representing the buyer was Kevin Dyche, broker/owner at Real Estate Investment Opportunities.
The transaction represents how the price of Steamboat real estate, at least in this category, has begun to decrease since the record year of 2007.
Dyche said his buyers, a young couple with a new baby, began looking for a single family home.
"We looked at property in several places, including Hayden and Oak Creek, and made offers on several places," Dyche said.
They ultimately decided on the Stagecoach Townhouse because of the amount of square footage they could leverage for the price. The five-year plan is to hope for an increase in equity and move back to Steamboat.
Realtor Jack Carter, of Prudential Steamboat Realty, thought his listing clients were providing the buyers with a bargain when they sold a similar but more recently remodeled unit for $268,000 at the end of July.
"At the time, it looked like a discount," Carter said. "Now, I think they did really well. If we were putting it on the market today, we'd probably be asking $250,000," Carter said. "They had a building lot with a construction loan all set up. They were very motivated buyers, which is what you need today."
Technically, Carter's clients sold their townhouse for the asking price of $279,000, but the terms of the buyers' FHA loan meant they had to provide assistance of a little more than $11,000 to the buyer, for a net of about $268,000.
Even that amount represents a decrease from what similar townhouses in the same Stagecoach project were fetching in late 2007.
"A year ago, there were sales in the low $300s," Carter said.
A check of the MLS shows that in October 2007, former Steamboat Realtor Jen Fritz sold a 1,730-square-foot townhouse for $305,000. And Kathy Hughes, of Colorado Group, sold a 1,408-square-foot unit closer in size to last month's transaction for $301,000.
Carter said a variety of factors, including the price of gas, could change buyers' perceptions of the Stagecoach market.
Another factor in the Stagecoach Townhouse market is the six-plex buildings the units are located in. Carter explained that there are two levels of fees associated with homeowners associations at the development. The first is universal and covers standard fees such as trash and snow removal. The second is peculiar to the six owners in each building and varies with their willingness to take on maintenance such as replacing decks, roofing materials and siding, for example.
Dyche confirmed the unit that sold for $214,000 had seen no remodeling since it was built. However, that factor could also create opportunity for owners who are able to invest in upgrades.
Carter said the unit he listed was in a building where a lot of upgrades had been undertaken on the exterior. In addition, the interior had been remodeled with hardwood floors and new countertops, among other things. The unit that sold for $314,000 this fall was not in as good condition, he said.