Holiday concert
The Soroco Secondary Schools' Holiday Concert is at 6:30 p.m. Dec. 16 at Soroco High School. The faculty choir will perform, along with sixth- through 12th-grade bands and choirs.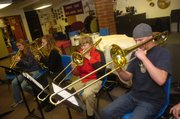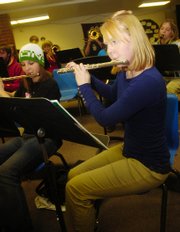 Oak Creek — Seven Soroco High School students joined more than 100 other high school musicians from across Northwest Colorado in Aspen last weekend to perform with the Colorado Music Educators Association honor band.
Honor band presents a good opportunity for students at small high schools to interact with other students with similar interests from across the state, said Kelli Turnipseed, music director at Soroco High School and Middle School.
While many of her students participate in athletics, honor bands present a different type of social atmosphere than winning-centered, head-to-head sports matches, Turnipseed said.
"In music, it's totally different," Turnipseed said. "It's competitive for the first hour, where you're deciding what chairs and who gets what solo. After that, it's all about the final product."
Senior Katrina Maes said it was fun to meet other students who play her instrument - she's the sole baritone player at Soroco.
"There's really a lot of good players out there," said Maes. "It was fun to be in a big band."
Students from Hayden and Steamboat also took part in last weekend's CMEA honor band, along with musicians from nearly every other high school in Northwest Colorado. Musicians were selected by director recommendation.
The honor band performed five pieces in Aspen: "Variations of a Korean Folk Song," "Colonel Bogey," "America the Beautiful," "Masque" and "Concert Variations." The honor band music was much harder than the usual music at school, but the challenge was fun, sophomore trumpet player Alex Smith said.
Participating students had been practicing the music for several weeks to be prepared for solo tryouts when they arrived in Aspen on Nov. 14, Maes said.
Competition especially was tough for popular instruments such as the flute, said sophomore Caitlyn Berry, who had to settle for second chair.
After two days of rehearsals, the honor band performed the next night for families who came to the event, Maes said.
Sophomore trombone players Jake Hange and Wesley Peters, junior tenor saxophonist Matt Watwood and junior bass clarinet player Derek Crawford also played in CMEA's honor band. Senior trumpet player Darcy Wisecup also was accepted but was sick and could not attend, Turnipseed said.
Instrumental musicians are not the only musicians hitting the road this month - five Soroco High School sophomores will take part in Colorado Choral Directors' Select Honor Choir Monday in Grand Junction.
All five of the high school choir's eligible-age students - Cassy Meyer, Lanette Laman, Kelsey Marx, Jake Hange and Pie Lombardi - were accepted for the ensemble.