If you go
What: Steamboat Springs City Council meeting
When: 5 p.m. today
Where: Citizens' Meeting Room, Centennial Hall, 124 10th St.
On the agenda
- Second reading of an ordinance revising the Municipal Code as it relates to city water rates, setting a hearing date.
- Second reading of an ordinance revising the Municipal Code as it relates to city sewer rates, setting a hearing date.
- Second reading of an ordinance providing for the creation and collection of a building permit fee to be paid at the time of issuing a building permit to offset the costs to the community created by new construction.
- Second reading of an ordinance adopting the city budget and setting appropriations for 2009.
Document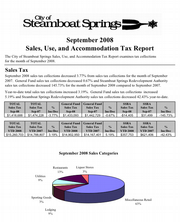 Steamboat Springs — The slimmed-down Steamboat Springs city budget could receive final approval at tonight's City Council meeting.
City finance staff members have not changed the proposal for 2009 expenditures since it received a preliminary thumbs-up Nov. 4. The city has forecast a 4 percent decrease in sales tax revenue and trimmed more than $2 million in expenses.
A crucial next step is prioritizing city programs and services in case more cuts are needed, Finance Director Lisa Rolan said Monday. She has compiled a list of more than 100 items to examine. The city should determine what its core services are and what could be reduced or eliminated, Rolan said.
"We should be assessing everything we do : from street plowing to parking lot plowing, from our noxious weed program to building permit reviews, from marketing to special events," she said.
That discussion is slated to begin immediately, and the council could hold a work session on the subject in January, Council President Loui Antonucci said.
The process will help organize any future reductions, acting City Manager Wendy DuBord said.
"So if we come to January and our economy is such that our revenues are even less than estimated that we have a methodology and kind of a map on what should be those services that are cut first," DuBord said.
Some city officials, including Antonucci, have said they fear the projected 4 percent decrease in sales tax revenue is too small. Sales tax represents the largest chunk of the city's revenue.
"I think it'll probably get passed, you know," Antonucci said of the budget. "I think that I have, and probably other council members have, concerns if we're being too optimistic about sales tax revenues, but I think from here, to make any budget cuts from here would probably entail the combinations of reducing services or even having layoffs."
The city, although it has instituted a hiring freeze and will not be giving employees raises, has not laid anyone off, DuBord said. Rolan said she planned to look at the cost of recruiting and hiring. If the city lays off employees, and the economy isn't as bad as expected, drawing people to Steamboat could be expensive, she said.
Rolan said she was comfortable with the proposed budget, offering comparisons with other mountain communities:
- Vail is projecting a flat sales tax compared with 2008 and a 5.7 percent decrease in overall revenues. But that drop is attributable to a decrease in real estate transfer tax income, Rolan said.
- Silverthorne is expecting a 0.5 percent decrease in sales tax revenues but a 2.5 percent revenue increase because of property taxes, she said. The city has put a hold on hiring.
- Frisco is projecting a flat sales tax but an overall revenue increase of about 2 percent because of property tax increases, Rolan said. The city is budgeting cost of living and merit pay increases for employees, she said.
Steamboat Springs is being conservative, DuBord said. She and Rolan noted that staff was budgeted to increase its reserves from 15 percent of general fund revenue to 20 percent of general fund revenue.
"Really what that is, is to give us more cushion for a further downturn in revenues," DuBord said.
The most recent information released by the city points to that downturn. Finance officials released September sales tax figures last week. Total monthly sales tax collections were down 3.8 percent compared with September 2007. But year-to-date total sales tax collections were up 3.2 percent from 2007.
Sales tax collections for the month were down in retail, lodging, sporting goods, restaurants and liquor stores. They were up for only utilities, which saw a 4.6 percent increase compared with September 2007.
"I think this was kind of what we expected, that there be a slight downturn in sales tax," DuBord said. "We think there are some things that might happen between now and the end of the year that might bolster that a little bit, but it depends on whether some new real estate space goes into business as planned."
Part of the September drop - lodging saw a 13.6 percent decrease, for example - was a result of the timing of the Labor Day holiday, said Sandy Evans Hall, the Steamboat Springs Chamber Resort Association's executive vice president. The holiday was Sept. 1, meaning most of the weekend landed in August.
"I think at that time, too, was when the news of the economy was really starting to hit the marketplace," Evans Hall said.
Still, Rolan said she thought the city was being conservative enough.
"We're providing a balanced budget," she said. "We are not dipping into our reserves."
- To reach Blythe Terrell, call 871-4234 or e-mail bterrell@steamboatpilot.com