Veterans Day events
- A free breakfast for veterans is 6 to 8:30 a.m. at VFW Post 4264, 924 Lincoln Ave. in Steamboat Springs.
- Post and Women's Auxiliary members will visit veterans at the Doak Walker Care Center from 11 to 11:45 a.m. Meet at 10:30 a.m. at the VFW Post to carpool.
- A dinner with cocktails at 6:30 p.m. is at the VFW Post. The catered dinner costs $12. Call Valerie at 819-3197, the VFW at 879-9959 or Jim Stanko at 879-3936.
- A Veterans Day assembly is at 9:30 a.m. at South Routt Elementary School in Yampa. All veterans and members of the public are welcome.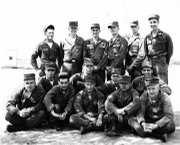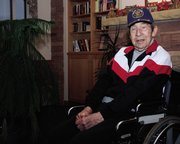 Sixty-six years ago, Elvin Miles donned a Navy uniform. Fifty-three years ago, Bert Kempers donned an Army uniform.
The two veterans saw the world - Miles from a Navy ship in the South Pacific and Kempers from behind a camera in Germany. Today, the nation honors their service with the Veterans Day holiday.
On Monday, Miles and Kempers shared their stories at the Doak Walker Care Center in Steamboat Springs.
Miles enlisted in the Navy in 1942 when he was 18, figuring he would be drafted to fight in World War II anyway. His eyesight wasn't good enough for the Marine Corps, and Miles chose the Navy because a buddy planned to enlist in that branch.
As it turned out, "he was in the Army," Miles said with a laugh.
Miles spent the next four years in the South Pacific. His group was the first to enter Nagasaki and Hiroshima after the U.S. dropped atomic bombs on the Japanese cities, he said. Miles also recalled destroying mines in the ocean with .50-caliber machine guns.
"We'd go to those islands, drag cables, cut those mines loose, and when they come to the top, we'd take our small guns and shoot them to explode them," Miles said.
The process was risky, he said, admitting there was an element of fun to it.
"You'd think you blew up the whole ocean," he said.
Miles, who said he grew up on a farm between Steamboat Springs and Oak Creek, finished his Navy service as a petty officer third class. He returned to the Yampa Valley and worked as a coal miner and a truck driver before breaking his hip.
Miles said he was lucky to have survived the war.
"I've seen enough," he said. "I don't ever want to see such a brutal thing in my life."
Kempers didn't see the same carnage Miles witnessed.
The New Mexico native earned a zoology degree from the University of Colorado in 1954 and said with a laugh that he was "asked to participate" in the military in 1955. Kempers joined the Army at about age 23.
The Army offered him a commission as a biologist, he said, and he probably would have dealt with insects in South America. That wasn't appealing to Kempers, who said he always had wanted to be a wildlife photographer.
"When my orders came in to go to photography school, that sounded like a lot more fun than turning over buckets of mosquitoes," he said.
Instead, Kempers was a photographer in the Signal Corps, the Army's branch of communications. He served in Germany after the Korean War, during the Cold War. His role gave him high security clearance, and Kempers said he met famous U.S. military figures, as well as Russian spies.
"We'd photograph them," he said of the spies. "We got to know some of them personally. : The Russians were playing the same game we were."
Kempers lived in Germany with his wife, Jeanne. He said his company got shot at but was never involved in full combat.
"I don't know how close we came to war" during that time, Kempers said. "Probably with the (Cuban) missile crisis was the closest thing."
He served for two years, shooting photographs and video. The photographers also worked for the Germans, he said, because the nation wasn't allowed to fly planes or take many of its own photos.
When Kempers returned, he came to Colorado. He made videos for entities, including the agency that became the Division of Wildlife, the University of Colorado and CBS.
But some of his friends never had those opportunities. When Kempers thinks of Veterans Day, those are the men he remembers.
"I think of all the people I know who didn't come back," he said. "I had three roommates in college that did not come back. : I lived with those guys. They were my friends."
That service, Kempers said, is important.
"If we had a vote between the draft and a volunteer military, I think I'd vote for the draft," he said. "The way service is for this country, I think everybody should experience that. : I think people would appreciate their country more."