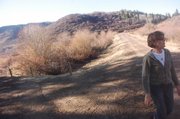 Steamboat Springs — This time of year, the tranquility at the confluence of Sarvis Creek and the Yampa River periodically is broken by the crack of gunshots.
For non-hunting visitors to the Sarvis Creek State Wildlife Area and Sarvis Creek Wilderness such as Pat Roberts, the disturbance is tolerable for about two months a year. A recent Colorado Division of Wildlife project, however, is not.
"It's just so drastic," Roberts said as she walked down the DOW's new road between a concrete bridge and the Sarvis Creek Trailhead, where only a footpath had been before. "It's devastating, because it really was one of these unique, pristine areas in the county where a lot of people used it, but you never really saw a lot of people."
Roberts was one of about a dozen people who contacted Routt County with concerns about the DOW project, which also added parking areas for hunters.
"They have voiced concerns about the magnitude of the construction, the lack of attention to erosion control, the irreparable damage to sensitive natural and riparian areas, costs of the construction, restoration plans and noncompliance with the Sarvis Creek Area Plan," a letter from the Routt County Board of Commissioners to DOW Area Wildlife Manager Jim Haskins states.
The process by which the project was carried out also has been a source of concern. The DOW did not enter Routt County's permit process before conducting its work. As a state agency, the DOW is not required to do so. But in a spirit of goodwill and cooperation, Commissioner Diane Mitsch Bush said such agencies typically go through the process anyway.
"The goal of the Sarvis Creek Area Plan was to create a unified approach to the management of the Sarvis Creek area, where all entities would communicate and cooperate with each other while following the recommended policies and actions in the plan," the letter states. "We are disappointed that it does appear that (the DOW) did not review and comply with the policies and action items."
At a meeting with the commissioners Tuesday, Haskins said the DOW has entered the permit process retroactively, and he apologized for not doing so initially.
"The project has been in our planning process for a number of years," Haskins said. "If the ball got dropped on something, it's my fault."
Haskins said the road and parking improvements are intended to improve designated areas in the hope that people will not park and drive in other, more sensitive areas.
But like Roberts, Dori Weiss thinks the work was too extensive.
"For me, when I happened upon it, it really was as if a church or temple that I worship in a bomb had gone off," Weiss said at Tuesday's meeting. "It seems like this place was destroyed - and I mean literally destroyed - for parking for people who use it two months a year rather than people who use it 12 months a year."
Haskins and the commissioners hashed out a plan for further public involvement if and when the DOW does any more construction work in Routt County. But in Roberts' opinion, the damage already is done at one of her favorite places to recreate and, if nothing else, she would have liked to have known it was coming.
"I don't know if they would have listened," Roberts said, "but at least we could have made suggestions."
- To reach Brandon Gee, call 871-4210 or e-mail bgee@steamboatpilot.com