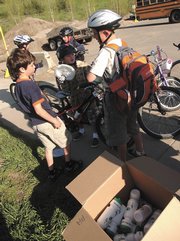 Steamboat Springs — Nearly 100 students poured through the trails near Strawberry Park Elementary School on Friday during the last of five Hike/Bike to School Fridays.
The school's Green Team and parent organizers of the event gave each participating student his or her choice of reward for using nonmotorized transportation to get to school. Gifts included a free book from Epilogue Book Co., a bicycle water bottle or a pass to Old Town Hot Springs, among other gifts donated by sponsors.
Danielle Skov, one of four mothers who arranged the event - two at Strawberry Park and two at Soda Creek Elementary School - said about 75 students had walked or biked every Friday in May, with a surge of 100 students on the last day of the program.
"This event isn't as much about being 'green,'" Skov said, because school buses provide a good transportation option. Rather, the event was designed to urge students to get outside more often.
"The great thing about it is that we've done it every Friday, but we've also noticed an increase in bikes during the week, too," she said. Her son, Mac, a second-grader, and daughter, Lark, a fourth-grader, took the opportunity to bike to school.
"It feels pretty fun after you do it because you get something," Mac said, referring to the gifts. "But that's not even the main thing. I think the main thing is actually letting kids do it."
To ensure safety, parents have taken turns chaperoning the students on their journeys, said Essi Kenttala, who rode with her daughter, Annika Malacinski, and several other children.
"It's so helpful when the community comes together," she said.
Some families made the treks together, such as the family of Tony and Carrie Requist, who biked 20 minutes downhill to school with their three elementary-age daughters, Lauren, Melissa and Olivia.
"You inspired us," Carrie Requist told Skov as her family rode up to the elementary school.
Several parents mentioned the difficulty of crossing Amethyst Drive from Spring Creek Trail, near the high school, but a police officer posted at the crossing Friday helped crossings continue smoothly.
- To reach Zach Fridell, call 871-4028
or e-mail zfridell@steamboatpilot.com