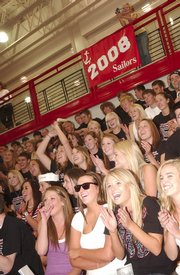 If you go
What: Steamboat Springs High School graduation
Where: Steamboat Springs High School, Kelly Meek Gymnasium
When: 2 p.m. Saturday
Who: Speakers will include principal Mike Knezevich, co-valedictorians Cameron Niswander and Bryce Peters, assistant to the boys basketball team and booster club member Jim Bronner, and Speaker of the Colorado House of Representatives Andrew Romanoff
Call: High school at 879-1562.
Steamboat Springs — The largest class Steamboat Springs High School has ever seen will graduate Saturday, with 172 seniors crossing the stage in the school's gym.
During their last day of classes Thursday, seniors were honored with a ceremony commemorating their 13 years in the Steamboat Springs School District, eliciting roars of laughter, a few tears and some words of wisdom from teachers past and present.
Class co-sponsor and teacher Ben Clark told the students that once they leave high school, reality will come at them quickly.
"In a couple days, life will come at you in live action," he said. "Don't blow it."
He also gave them the lifelong advice to clean up, pull up their pants - wearing pants too low on the waist "looks unintelligent," Clark said - don't get caught texting, "and most importantly, remember you're from Steamboat."
The other co-sponsor, Carole Buelter, echoed the warning of "don't blow it" but also said the class was the best in her 17 years of teaching.
Teachers from elementary and middle school spoke at the event, reminding students of the "halcyon days of their youth" and taking the chance to tell a few embarrassing stories the seniors might have forgot.
Sharon Clementson reminded one unlucky student about a time the student was stuck between two trees in the Soda Creek Elementary School playground and had to be pried free.
Senior class president Taylor Miller-Freutel and vice president Michael Weston also addressed the all-school assembly, listing 20 reasons the seniors will be sad they are leaving high school.
The list, filled with inside jokes from the years the class has spent together, drew howls of laughter from the seniors.
After finishing the list, Miller-Freutel stopped to ask the class, "Are we really going to miss high school?"
The seniors, in a moment of unity, responded with a clear "No!"
The graduation ceremony will be held in the high school's Kelly Meek Gymnasium at 2 p.m. Saturday.
Guest speakers will include Speaker of the Colorado House of Representatives Andrew Romanoff and assistant to the boys basketball team and booster club member Jim Bronner. The speakers were chosen by popular vote.
Co-valedictorians Cameron Niswander and Bryce Peters also will address their fellow graduates, as will high school principal Mike Knezevich.
A baccalaureate ceremony will be held before the graduation, at 12:30 p.m. in the gym. Seating for graduation will begin after the baccalaureate. Overflow parking will be directed to the Wells Fargo parking lot, where shuttle busses to the school will begin running at 12:15 p.m.
- To contact Zach Fridell call (970) 871-4208 or e-mail zfridell@steamboatpilot.com