Past Event
Friday, June 6, 2008, 5 p.m. to 8 p.m.
Steamboat Art Museum, 807 Lincoln Ave., Steamboat, CO
All ages / Free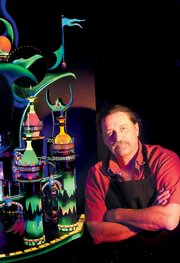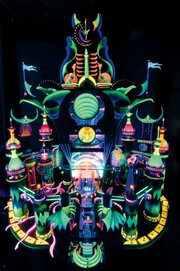 Steamboat Springs — Don Woodsmith is hesitant to say he's made something new with his space-inspired reflective light sculptures.
But he can't quite think of anything to which to compare the work. Built from found objects in symmetric layers that are somewhere between childhood arcade games and black-lit fantasy worlds, the pieces in Woodsmith's upcoming show, "The New Frontier: Electric Light Sculpture," certainly stand out.
"This is an extension of the art I used to do when I was a kid," Woodsmith said in his studio Wednesday afternoon, taking a break from finishing the collection for display in the Steamboat Art Museum's June show.
There's not a ready term to describe Woodsmith's sculptures - except maybe for glow-in-the-dark - so he's taken the opportunity to create his own: "alien deco."
"I found I could make up any term I wanted, because people have never seen this type of art before," he said. "Even for me it's difficult to describe exactly what I've done. People always ask, 'What are you doing?' I don't know. Making sculptures."
When Woodsmith started crafting sculptures out of old lamps, antiques, paper, paint and black lights a little more than two years ago, he didn't really expect to have to explain the finished product. At the time, he didn't intend these things for public consumption.
"I'm surprised that it got so far," Woodsmith said. "I built the first two because it was fun, and then I kept going because of the reaction."
The sculptures, which comprise their own little fantasy worlds of color-caused detail, aren't planned with layouts or drawings or any grand scheme. Instead, Woodsmith uses three decades of experience crafting materials - he had a successful woodworking and sign-making business before this - to manipulate found objects and spare parts into a multi-level product.
It can be a highly ornate process, and Woodsmith estimates he spent a total of 14,000 hours preparing the pieces that will be on display in the Art Museum's back room. He finds people like to stare at black lights reflecting off the planets, dinosaurs, figures and platforms that adorn his work, and that the pieces have drawn a generally transfixed response.
"It tends to turn people into kids," he said. "Ages 5 to 85. I had some people in their 80s over here the other day, and they didn't want to leave."
So even if Woodsmith hasn't created a whole new genre of art, and even if he has, he's certainly found something to catch our attention.
"If I did something different, it's worth it," he said. "And if I didn't do something different, it's worth it."