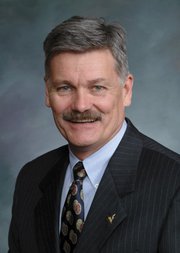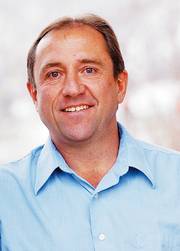 Steamboat Springs — In the campaign for state Senate District 8, four-term state Rep. Al White, R-Hayden, has raised $69,000, more than double the $29,000 raised by his rival, Ken Brenner, D-Steamboat Springs.
White, who was in Steamboat on Tuesday for a groundbreaking ceremony at Yampa Valley Medical Center, said he has spent the past couple of weeks traveling across the district meeting voters as well as attending to business in Denver.
"I'm just in and out, around and about. You name it, and I've been there," he said by phone as he drove to a bill-signing ceremony with Gov. Bill Ritter on Wednesday. White co-sponsored the bill to provide tax exemptions for products made from beetle-kill wood.
Brenner, a former Steamboat Springs City Councilman and former chairman of the local Democratic Party, said he spent Wednesday afternoon walking the streets of Steamboat meeting voters. Brenner said he was happy with the progress of his campaign despite the funding deficit.
"I think ($29,000) is the most for any Democratic Senate challenger in the state. The Republicans have more money than that, but I'm happy where we are at this point in the campaign," he said, adding that his goal is to raise $200,000 by Election Day.
"I've been really focusing more on voter contacts and outreach and getting to know the people," Brenner said.
Brenner said his campaign will host a meeting from 6 to 8 p.m. today at the law offices of Mark Fischer and Ralph Cantafio, 345 Lincoln Ave., Suite 202.
Brenner received the official party nomination and support from Colorado Lt. Gov. Barbara O'Brien during the state Democratic convention May 16 and 17.
O'Brien will help his candidacy by appearing at events and helping with fundraising, Brenner said.
White and Brenner are bidding to replace term-limited state Sen. Jack Taylor, R-Steamboat Springs. State Senate District 8 serves Routt, Eagle, Garfield, Jackson, Moffat and Rio Blanco counties.
- To reach Zach Fridell, call 871-4208
or e-mail zfridell@steamboatpilot.com