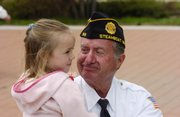 Steamboat Springs — Full military regalia was on display Monday morning during the annual Memorial Day ceremony at Steamboat Springs Cemetery.
The event, held annually since the 1920s, drew about 200 people to commemorate troops past and present, and especially the 264 veterans buried in the cemetery.
Rick Reinhard shouted out the orders as representatives from the five branches of the military and POW/MIA went through a presentation of flags and changing of the guard.
Hosted by the Veterans of Foreign Wars Post No. 4264 and American Legion Post No. 44, the ceremony also was attended by the Legion and VFW auxiliaries, Boy Scout Troop No. 94 and Civil Air Patrol cadets.
Reinhard, a member of the local American Legion and former presidential escort, has presided over the event as sergeant of the guard for five years.
Jim Stanko, one of the organizers of the event, said the turnout was impressive and has been steadily high since the Sept. 11 attacks.
He said although several veterans have died in the Yampa Valley in the past year, there were no military burials in the Steamboat cemetery this year.
Tony Weiss and Robert Nelson served as sentries during the changing of the guard ceremony. Weiss, who grew up in Steamboat Springs and is on active duty, was home on a one-week leave before he returns to North Carolina and, within a couple of months, deploys to Afghanistan.
Nelson, who is retired after serving in Desert Storm, said his family makes time every Memorial Day to honor the troops.
"It's usually a good day to get out of town and go visit family and vice versa, but we usually stay back so we're able to participate in the ceremony. It's just a great honor to pay tribute to the fallen service men and women out there who gave the ultimate sacrifice," he said. "It's really nice to see the community come together like this and show their support."
One of the onlookers was Wayne Ehle, a World War II veteran who has taken part in many of the past ceremonies and was active in the local VFW for years, during which time he erected the first flagpole in the Steamboat cemetery.
Ehle has his father and a brother, who was killed in the Korean War, buried at the cemetery.
Ehle and his wife, Becky, recalled that there were often only a dozen citizens at the Memorial Day event when they started organizing it in the late 1960s.
Stanko agreed, saying there often were more service members taking part in the ceremony than there were onlookers. Attendance has swelled in recent years, he said, helped in part by buses used to transport attendees from downtown up to the cemetery.
The ceremony included a short speech by state Sen. Jack Taylor, R-Steamboat Springs, who served in the Navy from 1957 to 1960, as well as a 21-gun salute.