Photo Gallery
2008 Paddle Life Pro Invitational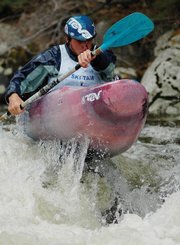 Steamboat Springs — The secret is bananas.
Not a Woody Allen film or a Gwen Stefani song - Australia's Tanya Faux said it's the fruit that helps power her, and the fruit that again Monday made her queen of the Yampa River. Faux racked up her third Paddling Life Pro Invitational women's championship, dominating the two-event competition with a second-place finish in the freestyle portion and a first-place finish in the Fish Creek race.
"It's got to do with endurance, power and fitness," Faux said of what separates her. "You've got to eat a lot of bananas."
Faux, who has won the title in each of the invitational's three years, specializes in creek racing, so, to a large degree, she put herself in position for the championship with her freestyle performance.
Emily Jackson won the freestyle portion of the event, blowing her peers away at Charlie's Hole in downtown Steamboat Springs by hanging in the wave and continuing to perform tricks. Others - Faux was second and Steamboat's Sarah Hamilton third - spent much of their time in the finals fighting to get back upriver and back into the feature.
"The hole this year was a lot more challenging," Faux said. "It was higher and it was less consistent, so you had a lot more surges and seams coming over the bow of your boat. Last year, I definitely threw more moves before flushing. I would throw five or six, but this year, I could only get three or four."
Faux still managed a second-place finish, however. When she finished the creek race 13 seconds ahead of any other woman, she was easily the champion again.
Jackson finished fourth on Fish Creek to secure second overall, and Ruth Gordon, fifth in freestyle and second on the creek, was third.
Men tie for championship
The race for the men's title was much closer and, in fact, ended in a tie. Nick Troutman and Andrew Holcombe each finished first in one event and sixth in the other and ended up splitting the prize purse.
Holcombe, competing in the invitational for the first time, traveled to Steamboat after hearing rave reviews of Fish Creek. The creek turned out to be his salvation. Sixth in the freestyle, he rebounded with the fastest time of the day in the creek race, finishing seven seconds ahead of his competition.
The creek race, originally scheduled to be the first event of the day, was switched and run in the afternoon with hopes of catching the water at a higher stage. The plan worked, though its level left competitors dodging boulders as they rushed toward the finish.
"It's more technical. You have to pay attention a little more," Holcombe said. "When there's not as much water and there are more rocks, you have to hit your line better. You have to be more on top of it. What really slows you down isn't going the wrong way, it's hitting rocks."
Troutman won the freestyle competition with a late rally. He ran behind eventual runner-up Stephen Wright going into finals but outperformed Wright to take first.
Corey Volt was third in the freestyle event.
"We had a lot of adversity this year because of the weather, but that said, it came out really well," event organizer Joe Carberry said. "Fish Creek is your wild card in the whole event, but it worked out this weekend. We're just happy that this thing has legs and that it will be a tradition. It will be here every year at Memorial Day."