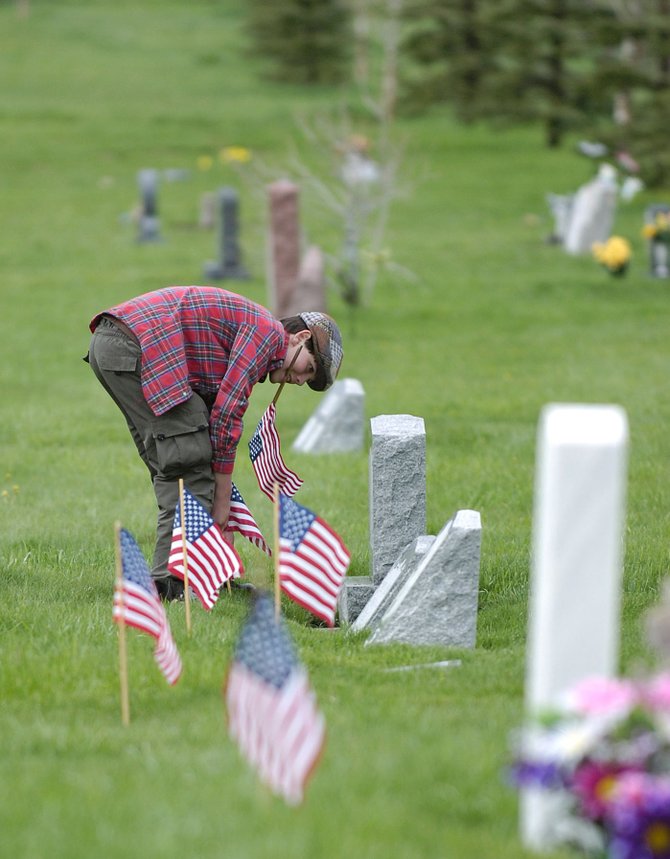 A day to remember
Steamboat woman celebrates Memorial Day by honoring her brother
If you go
What: Memorial service conducted by Veterans of Foreign Wars Post 4264 and American Legion Post 44
When: 11 a.m. (bus service will be provided from 10 a.m. to 10:45 a.m. at Stock Bridge Transit Center)
Where: Veterans' Memorial in Steamboat Springs Cemetery
Cost: Free
Call: 879-3936
In Hayden
Hayden American Legion Post 89 hosts a retreat ceremony at 6 p.m. at the Hayden Cemetery, to honor all veterans of U.S. military service. The event is free.
Steamboat Springs — Robert Secher was an understated man.
In his letters to home from Iraq while serving there in the Marine Corps, Secher describes difficult missions and uncomfortable circumstances, often abbreviating the realities of training and advising Iraqi forces.
"He was always, 'It's fine, it's a little hot.' Well I'm sure it was 140 degrees. Or, 'The mosquitoes are terrible.' Well I'm sure they were the worst mosquitoes you've ever seen in your whole life," Steamboat Springs resident Paula Salky said of her brother. "He just didn't really complain. He accepted his position and his choice."
That choice took Secher from a post in Okinawa, Japan, to the insurgent-heavy Anbar province in Iraq. He died there on Oct. 8, 2006.
"There was a request for volunteers to go to Iraq to train the Iraqi military, and he was the first one to volunteer," Salky said of her brother, who was 33 years old when a sniper's gunfire ended his life.
Secher had been volunteering to serve for years. He chose to attend a strict military high school and opted out of the officer position that training would have earned him when he entered the Marine Corps at age 17 because, as Salky said, "He wanted to go in just like everybody else." Secher had a relentless commitment to his country, and he lived it out with a focus on training and loyalty to his men.
On May 16, the 12th Marine Regiment on Okinawa honored Secher's dedication to preparation by naming a fire-support training facility after him.
"Everybody just said how much he led by example and how it was so important for everybody to be trained. This is an artillery building that they named after him, which I think is very appropriate because that's what he was really good at," Salky said.
Secher had a love for military strategy, for historical battles and what the men who fought them went through. In e-mails to his father and close friends published in Newsweek magazine a week after his death, Secher alludes to Roman soldiers and mentions a plan to write two books about his time in Iraq. He's heartbreakingly honest about what he saw, alternately optimistic and defeated about his role there.
That understanding of war and his place in it makes her brother's death that much harder to grasp, Salky said.
"That's where he wanted to be more than anything, was with his Marines, and to lead and set an example," Salky said. That lifelong dedication, along with Secher's youth and promise, make his absence seem surreal, she said.
"I really feel like Robert would have been one of these brilliant military advisors that would never let us get into a situation like we're in, in Iraq," Salky said.
"I think he had a sense of leadership that men over him and under him respected, and that's so sad, just his youth. And then this whole war thing, I just can't believe the situation that he was put in. And he chose to be there because he wanted to protect his brothers and do what he was supposed to do," she said.
Since October, Salky has channeled that dedicated spirit into training for her first marathon, which she'll run through national monuments with an Iraq War veteran on Oct. 26 in Washington, D.C.
"I've never done anything physically challenging like this before. But, you know, Robert has inspired me to do this, and everyday I go out running and I think about him and how beautiful it is here and how precious life is," Salky said. "But you know, as long as this war keeps on going on, every time I hear about somebody, I think about what the family is going through, and it's just so sad."
Today, Salky will go to the Memorial Day service at the Steamboat Springs Cemetery, even though she doesn't know anyone buried there. It's the least she can do, Salky said, to pay respect to her brother and those like him.
"I think, to him, America was the generals - he served whoever was leading our country. And you know, we ask a lot of our men and women who serve in this military. I think the least thing we can do is honor them any way that we can."