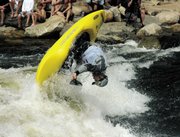 Paddling Life Pro events
Today
Paddling Life Pro Invitational, practice runs
When: 3 p.m.
Where: Fish Creek (creek race) and Charlie's Hole (freestyle); registration for Pro Invitational events is closed, spectators only
Call: 870-0880
Competitor registration with free
barbecue
When: 6 p.m.
Where: D-Hole, downstream of Charlie's Hole on the Yampa River
Call: 870-0880
Monday
Paddling Life Pro Invitational, kayak creek race
When: 10 a.m.
Where: Fish Creek
Call: 870-0880
Freestyle competition
When: 1 p.m.
Where: Charlie's Hole in the Yampa River in downtown Steamboat Springs
Call: 870-0880
AprÃs paddle party with music, food and drinks
When: 6 p.m.
Where: Sunpie's Bistro, 735 Yampa St.
Call: 870-0880
Steamboat Springs — ///////Editor's Note: On Sunday, citing weather conditions and taking advantage of peak water flows, organizers of Monday's Paddling Life Pro Invitational decided to reverse the starting times of the event's two competitions.
The freestyle event in Charlie's Hole will now be held first, at 11 a.m. at Charlie's Hole on the Yampa River adjacent to the Bud Werner Memorial Library. The one-mile race on Fish Creek, finishing near the Steamboat Boulevard bridge, will follow with a 3 p.m. start time.
"The cold weather brought the levels of the area's creeks and rivers down this weekend," event organizer Joe Carberry said. "So we wanted to move the creek race back into the afternoon to capture the maximum flows."
The aprÃs party with music, food and drinks will still be at 6 p.m. at Sunpie's Bistro at 735 Yampa St.
/////////
As great as things look water-wise for tomorrow's Paddling Life Pro Invitational - the third incarnation of Steamboat Springs' premier kayaking event - the days leading up to the competition haven't been worry free.
The cool Steamboat spring, which has continued to dump snow in the area as recently as two weeks ago and promises to make 2008 a year to remember on the Yampa River, has left event organizer Eugene Buchanan watching the skies.
Fish Creek, site of one of the day's two competitions, only opened up to boaters within the last week. It's open now, however, and much to Buchanan's delight, the Yampa is primed for its moment in the spotlight.
"When it's running like this, you can just see their smiles widen," Buchanan said of the 35 competitors who will take to the rapids. "A lot of these guys go to events where the rivers are quite worthy. This year, here it should be awesome with so much matter. (The snowpack) has taken a while to get down, but it's finally getting into gear."
The two-competition format helps Steamboat's event stand out, as participants compile points first with a 10 a.m. dash down Fish Creek, and then again at 1 p.m. with a freestyle contest at Charlie's Hole behind Bud Werner Memorial Library on the Yampa.
Buchanan said the Paddling Life Pro Invitational is the only event that combines the two disciplines of freestyle boating and river running in the same competition.
The unique characteristic is something that's helped the event forge its own identity.
"It's been received very well," Buchanan said. "Competitors like it because there is a lot more to river running than slipping around in a big play wave. Then conversely, there's a lot more to being a well-rounded river runner than running some creek quickly. This rewards all the attributes of paddling.
"It's great that Steamboat offers the ability to do both on the same day within a couple miles of each other."
Faux trying for three
The event has changed a little throughout the years. This year, for instance, will be the first time the competition has been paired with the Yampa River Festival, which started Saturday. That could help attendance and help generate greater buzz for Monday's competitions, Buchanan said.
Like last year, the morning's competition will take place on the middle section of Fish Creek, a change from the race's first year when it was run near Fish Creek Falls.
The course runs 1 mile to the Steamboat Boulevard bridge.
"Running Fish Creek changes depending on the water level each year," competitor Tanya Faux said. "It's really cold compared to other races we do. The quality of the white water is hard enough, but not extreme enough to where someone is going to die.
"The freestyle feature is quite powerful. There are some other features we compete at where you might be able to do more moves, but it's not the water doing the work, you are. (In Steamboat) you have to use the water to make yourself do the move. You can't just force it through."
Faux, a professional from Australia, won the women's division of the event both years it's existed. She said she's eager to maintain her dominance on Steamboat's waters.
"The event is challenging. To be good at both disciplines is pretty rare," she said. "I'm pretty excited to be back, especially because we might have better water than we've had in previous years."