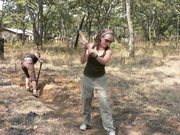 Age: 24
Occupation: Montessori preschool teacher, middle school track coach
Place of birth: Denver
Q. When did you move to Routt County and what brought you here?
A. I moved when I was 10 when my dad got a job here.
Q. What's the biggest risk you've taken recently?
A. I rafted the Zambezi river the second day it was open!
Q. Describe your morning routine.
A. Get up, shower, get ready, inhale a banana and glass of juice, rush out the door so I'm not too late.
Q. Has a book ever changed your life? What was it and why?
A. "Ishmael," by Daniel Quinn. It really makes you think about the way we live.
Q. What's the best piece of advice you've ever been given?
A. Don't drink the water.
Q. What three things would you want people to know about you?
A. 1) I'm a great whistler; 2) I get the hiccups when I eat spicy food; 3) Someday I would love to say I lived on all of the continents.
Q. What did you want to be when you grew up?
A. I have to grow up?
Q. If you could invite any four people to dinner, who would they be and what would you talk about?
A. Bono, Julia Massey, Will Ferrell and my entire family.
Q. Do you collect anything?
A. Dirty laundry and books.
Q. In the Meatloaf song, "I'll do anything for love, but I won't do that," what is that?
A. Cheer for the Raiders.
Q. What was your first job?
A. Summer camp counselor-in-training for the city of Steamboat Springs, when I was 13.
Q. Who is your favorite superhero? Why?
A. Batman - because he has the coolest gadgets and is a babe!
Q. Do you have a tattoo? If so, what of and why did you chose it?
A. None!
Q. Do you have any phobias?
A. Recycled air in airplanes.
Q. If you could go back in time, to what event or time period would you go?
A. I would go to central Africa and Australia before the white settlers.
Q. What is your favorite thing to do in Routt County?
A. Be outside.