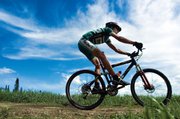 Steamboat Springs — The Rio Stampede will have a different look this year.
After four years of running as a 12- and 24-hour event, race directors decided to move the event to six- and 12-hour rides.
The endurance mountain biking race also is being moved to Aug. 9 to ensure the trails are dry after a record-breaking winter.
Co-race director Katie Lindquist said organizers looked at moving the race from the base of the Steamboat Ski Area, possibly to Howelsen Hill, but decided the course was one of the biggest draws.
"All the energy at the base of the ski area, keeping it there was important to us," Lindquist said. "It was pretty much a no-brainer for us. We're pretty excited for it being in August because we can almost guarantee it will be over 30 degrees."
The race is entering its fifth year. Riders begin with a Le Mans start, in which they run a short distance to their bikes, then try to complete as many 11-mile laps as possible in the allotted time.
Each lap has an elevation gain of more than 2,000 feet on the singletrack trails that wind up Mount Werner.
Lindquist said after last year's race, organizers sat down and looked at how to make the race better. This included looking at options to grow the race, which had included about 200 racers for the previous four years.
Lindquist said the biggest area of growth was in the 12-hour solo division.
"We really were putting a 24-hour race on for a handful of people," she said. "We want to grow the race and keep it hopping. This opened it up to a lot more people."
Lindquist said she hopes the new changes to the endurance race will help the event draw between 300 and 400 racers.
"We want to keep this event going," she said.
Under the new format, competitors will be able to compete solo or on two- and three-person teams in the 12-hour race. Corporate teams of four or more riders also will be able to compete. There will be solo and two-person teams in the six-hour race.
"This has been a real good solution," said Brad Cusenbary, a co-director for the race. "We made the decision not only for our trails but also for the racers. The great thing is this is such a hard race that racers will have a longer time to get their legs under them."