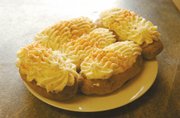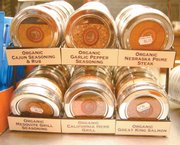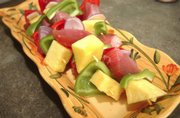 Simple marinades
1. For flank steak or sirloin tips (recipe by Billy Hamil): Soak meat that's been cut on a bias and against the grain in 1 cup of soy sauce and 1/2 cup of Worcestershire sauce for about two hours.
2. For barbecued meat you're planning to pick off the bone (recipe by Jo Stanko): Tenderize the meat with garlic sauce and lemon juice, and cook at a low heat for a long period.
Grilled yellow squash and green zucchini
By Billy Hamil of Steamboat Meat & Seafood Co.
- Yellow squash or green zucchini, sliced about 3/8 inch thick
- Olive oil
- Balsamic vinegar
- Dash of Blackened Redfish Magic, from Chef Paul Prudhomme's Magic Seasoning Blends (available at Meat & Seafood)
1. Place sliced squash or zucchini in a large mixing bowl. Drizzle with olive oil and balsamic vinegar. Sprinkle with Redfish Magic.
2. Place on grill over medium-high heat for 3 to 4 minutes on each side.
Twice-baked potatoes
By Billy Hamil of Steamboat Meat & Seafood Co.
- 8 large baking potatoes
- 1 cup half-and-half
- 1 cup (two sticks) butter
- about 2 tsp salt
- 1/2 cup cheddar cheese, shredded
- about 2 1/2 tbsp sour cream
- chopped fresh chives to taste
- 1/2 tbsp black pepper
1. Bake potatoes at 350 degrees for about an hour, or until they get soft.
2. Make a spot on the top of the potato to scoop out the insides. Scoop cooked potato into a large bowl, and combine with half-and-half, butter, salt, cheese, sour cream, chives and pepper.
3. Whip the mixture until smooth.
4. Fill the potato skins with cheesy mixture and bake for about 20 minutes.
Tips for grilling
- Make sure grill grates are clean. Hamil suggests wire brushing and oiling the grates frequently to make sure meat and veggies cook on a clean, even surface.
- Avoid cross-contamination by using different trays to bring out raw meats and take in cooked dishes.
- Stanko suggests cooking tougher cuts of beef at a low temperature for a longer period to tenderize them.
- Smith warns those who are planning to marinate chicken, fish or any other meat to watch the oil content in the marinade. If it's too high, the oil will drip from the meat while it's grilling, causing flare-ups and charring.
- Start meats at a high heat to sear, then turn the heat down to a medium low to finish cooking. Searing locks in flavor without charring the outside of a nice steak or cut of fish.
- Avoid marinades with high sugar content - they'll caramelize when they hit high heat. Hamil recommends using sugary sauces as a topping for cooked meats, not as a way to infuse flavor before they hit the grill.
Grilled fish
By Greg Smith of Fireside Catering (recipe works for halibut, bass, tilapia or other white-colored fish)
- 1 lemon (slice half into wheels and half into wedges)
- 1 sprig of fresh dill
- some fresh basil, torn
- 1 clove (or 1 tsp) minced garlic
- 2 tbsp olive oil or butter
- 6 oz. piece of fish
1. Turn grill to medium heat.
2. Fold aluminum foil into a platter by pinning four corners of a piece into a rectangle.
3. Lay the fish down on the platter. Add fat (olive oil or butter). Lay lemon wheels on top of fish.
4. Add fresh dill, basil, garlic and lemon wedges into the platter.
5. Bake the fish on medium heat for 2 to 4 minutes on each side, depending on thickness. Take off the grill and set aside on a warm surface to finish cooking. The fish will be done when it flakes off with a fork.
Steamboat Springs — While complex flavors and multi-layered seasonings line the spice section of supermarket shelves, most grilling enthusiasts will agree, simple is the way to go.
Mary Kay Monger, a member of the Routt County Cattlewomen, likes to grill beef with just salt and pepper. Billy Hamil, owner of Steamboat Meat & Seafood Co., recommends a simple soy and Worcestershire sauce marinade for bias-cut flank steak. And Cattlewoman Jo Stanko is an advocate of dry rubs with few ingredients.
"Some people like marinades. We don't, we're purists over at my house," Stanko said, adding that there's nothing especially wrong with meat marinades.
"They're great - they're a great way to tenderize, and they're a great way to infuse it," she said. "But most ranchers, they just kind of like the taste of a nice salt and pepper or maybe a dry rub. We just like the flavor of the beef."
Monger, Stanko, Hamil and Greg Smith, who owns Fireside Catering, shared tips and favorite recipes for summertime grilling.