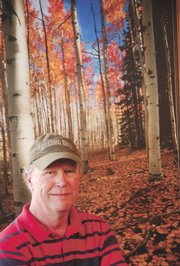 Steamboat Springs — Two galleries will add a splash of color to Lincoln Avenue storefronts next month.
Sleeping Giant Gallery is moving to a retail space in the new Alpenglow building at Lincoln and Sixth Street. The gallery has occupied a space in a corridor off Lincoln between Sixth and Seventh streets. Wild Horse Gallery is opening a second location, at Eighth Street and Lincoln Avenue, the former Alpine Electronics site.
"We wanted a little larger space," said Don Tudor, who owns Sleeping Giant Gallery with his wife, Cully Kistler. "We're kind of out of room. We wanted more walls."
Tudor sells prints of his photographs, and Kistler sells her oil paintings. Their new space at Alpenglow is about 11,000 square feet - 200 square feet larger than the current store.
"We designed this to get the maximum amount of wall space," Tudor said. The sage green wall zigzags on one side, providing more surfaces on which to hang pieces. Tudor has built homes in Steamboat Springs for years, so he and Kistler have done the renovations themselves.
"I've been in Steamboat 40 years, so I know it's always good to be able to do a couple things," Tudor said with a chuckle. About half his business is architectural photography.
Tudor and Kistler hope to open for the First Friday Art Walk in June. They're excited to sell their work in a more visible spot and plan to put a flat-screen TV in the window that will show images of their artwork at night.
"We've had a lot of people come by and say they didn't know we were back here," Tudor said about the current location. The gallery has a sign on Lincoln Avenue, but the actual shop is tucked away from passers-by on the main drag.
Wild Horse Gallery is making a longer trek to Lincoln Avenue. The gallery owners, who have a location in the Sheraton Steamboat Resort, want to tap into downtown traffic also.
"They're totally different markets, really," said Shirley Stocks, who owns Wild Horse Gallery with her husband, Richard Galusha. "We thought it would be nice because Steamboat has both a mountain market and a downtown market."
Stocks said she and Galusha had been waiting eight years to snag the space on the northwest corner of Eighth Street and Lincoln Avenue. Alpine Electronics closed last month.
Stocks said she isn't sure when the new gallery will open, adding that she and Galusha are aiming for the end of June. The gallery offers a variety of works, she said.
"We carry about 50 different artists, and it's everything from bronze sculptures to oil paintings to watercolors to glass," Stocks said.
Wild Horse will be the newest artsy addition to that downtown block. The Steamboat Art Museum, of which Stocks is president, sits on the south side of the Eighth and Lincoln intersection. Stocks said the local arts community had been working for years to build an art district, which offers several benefits, she said.
"I think it's also an educational aspect to that," Stocks said. "It's becoming a cultural district, and usually those are very vibrant. There's a lot of energy, a lot of nightlife and a lot of restaurants that go with it."
Other art and photography galleries downtown include the K. Saari Gallery, the Artists' Gallery of Steamboat and Images of Nature.
Although more galleries could mean more competition, Kistler and Tudor said they would welcome that culture.
"I'd love to see galleries all up and down Main Street," Kistler said.