If you go
What: Meet-and greet and presentation with Colorado coaches Dan Hawkins and Richard Rokos
Where: Olympian Hall at Howelsen Hill
When: 4:30 to 6 p.m. Tuesday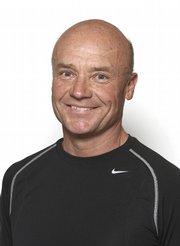 University of Colorado head football coach Dan Hawkins and ski coach Richard Rokos are coming to Steamboat Springs as part of the university's inaugural "Hawk Talk Tour."
The tour has included stops in Pueblo, Fort Morgan, Iliff, Sterling, Berthoud and Denver.
In Steamboat, Hawkins and Rokos will meet with people in Olympian Hall at Howelsen Hill from 4:30 to 6 p.m. Tuesday.
Along with talking to people, the two coaches will conduct a short program. There is no admission fee and anyone is welcome.
"It's been really great," Hawkins said of the tour. "It's one of the great things. You meet longtime Buffs, new Buffs fans and people that went to the university. Anytime the university can reach out and communicate with people, all that stuff is very positive."
The tour was devised after the NCAA ruled in January that head football coaches couldn't participate in off-campus recruiting during the spring evaluation period.
Hawkins, who has been to Steamboat before, said while part of the tour has been to help promote the program, it's really about much more than that.
"All that stuff is very positive, but I've always said I think there's two sides," Hawkins said. "This isn't just for season ticket holders and donors. When you're the university of your state you need to be accessible to the people in the state. I don't care what business you're in. You get your customers one-by-one."
While he was the coach at Boise State University in Idaho, Hawkins tried to visit every high school in the state every two years.
Hawkins said he'll talk about the direction of the program and university as well as answer any questions.
The Buffs, who finished 6-7 last year with a loss to Alabama in the Independence Bowl, netted a top-20 recruiting class and set a school record for attendance at this year's spring game, when more than 17,000 people showed up.
Although Hawkins is only mildly familiar with Steamboat, Rokos certainly knows the area. The veteran ski coach and owner of five national championships has pretty much opened a second mortgage on the ski hills in Steamboat.
Along with having several former Steamboat Springs Winter Sports Club members on his team, Rokos' last National Championship came in Steamboat during the 2006 season.
"That's my turf," Rokos said. "At this point, I probably have more kids from Steamboat than any other program ever. It's a good place for me, and I like the place."
On Wednesday, the two coaches will travel to Glenwood Springs to speak with a group of middle school students.