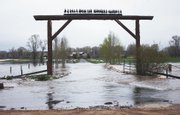 Steamboat Springs — Although still above flood stage, the swollen waters of the Elk River are expected to recede this weekend along with temperatures, bringing relief to residents near the Elk's confluence with the Yampa River. The area of the confluence has been flooded to varying degrees since Monday because of the record flows.
But local officials warn that Routt County isn't out of trouble yet. Even as the Elk recedes, the Yampa River could overflow its banks as early as Monday, Routt County Emergency Management Director Chuck Vale said.
Because of Thursday's rain and melting snow, a National Weather Service flood advisory is in effect for Routt County until 8:45 a.m. today. Small creeks and streams across the county are running at or above their banks, and flooding of adjacent land is likely, according to the advisory. A flood warning for the Elk River near Milner was due to expire late Thursday.
The Elk River was measured at 7.8 feet at 7:15 a.m. Wednesday, well above flood stage, which begins at 7 feet. The Elk River measured at 7.78 feet about 6 a.m. Thursday but had dropped to 7.32 feet by the afternoon. The river was flowing at 5,690 cubic feet per second at 3:15 p.m. Thursday, down from 7,100 cfs the previous day.
"This is what good skiing turns into, apparently," Vale said.
Similar conditions are causing concern in Baggs, Wyo., which serves as the drainage for the other side of the snowpack.
Railroad officials and the Colorado Department of Transportation have been monitoring their respective bridges over the Elk River, Vale said. The railroad's bridge, which has multiple abutments, is a particular concern because large debris can easily be caught underneath it, he said.
As the Elk River drops out of immediate concern due to cooler weather this weekend, the Yampa River seems primed to take its place.
"Now it's starting to grow all across the county. The Yampa was up this morning, and it's been gradually increasing day by day," Vale said Thursday. Vale expects Steamboat Springs to begin experiencing high water conditions at low-lying areas along the Yampa River early next week, including the area near Walton Creek Road and Dream Island Mobile Home Park.
Some riverside residents of Dream Island had preemptively sandbagged the banks of the Yampa on Thursday. The Yampa River Core Trail was closed under the 13th Street Bridge, as its pathway already was underwater with the river expected to continue rising.
Discharge for the Yampa River measured at 3,130 cfs at 9:15 a.m. Thursday, well above May 22's historical average of 2,060 cfs, but also significantly below the fastest recorded flow of 4,300 cfs on May 22, 1984. The Yampa's flow was hovering near 1,000 cfs only a week ago, according to the USGS.
No significant property damage has been reported because of high water in Routt County, and water has not entered any structures, Vale said.
High water on the Yampa in Steamboat likely will continue on to West Routt County.
"If (the Elk River) stays high next week, since the Yampa will come up more, we're going to have bigger problems," Vale said.
Road damage
Routt County Road 129 remains closed to through and commercial traffic for 10.2 miles in North Routt County. Local traffic still is permitted on the affected stretch of road from Columbine north to 3 Forks Ranch.
Water flowing over C.R. 129 in four or five places left gullies "big enough to swallow your Subaru," Routt County Road and Bridge Director Paul Draper said. Traffic will be restricted on C.R. 129 at least through the weekend, Draper said.
When the county experienced high water in 1997, there was 20 inches of water on C.R. 42 adjacent to the Elk River, Vale said. Although the river was well out of its banks Thursday, C.R. 42 remained dry.
Six to 8 inches of water, however, was flowing across C.R. 44 just north of its intersection with U.S. Highway 40. C.R. 44 remains navigable - cars were cautiously fording the roadway Thursday morning.
Some repairs were done Thursday to C.R. 76, known as Cog Road, which slides each spring and has been crumbling more significantly than usual since early May.
"As of this morning, there was still one solid lane," Draper said Thursday.
Road and Bridge crews also are closely watching slide areas on C.R. 25 just outside Oak Creek and monitoring a bridge on C.R. 67 south of Hayden, which may have weight restrictions placed on it today, Draper said.
"I think it's just getting started," Draper said.