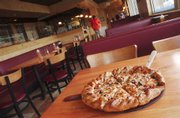 Past Event
Thursday, October 4, 2007, 6:30 p.m.
Bud Werner Memorial Library, 1289 Lincoln Ave., Steamboat Springs
All ages / Free
There's not much getting around the motivation for holding an eating competition at your restaurant.
"Shameless self-promotion" is the reasoning manager Bill Doyne gives for the Inaugural Mountain Pie Madness at Beau Jo's Mountain Bistro. Of course, Doyne says this as his alter ego, Don Bling. And that's where Mountain Pie Madness gets interesting.
Sporting an American flag cape and a dollar sign necklace, Doyne's cash-money persona is hoping to get at least 15 people to sign up for the pizza-eating contest, which will give entrants 10 minutes to make as much progress as they can on a large size of one of Beau Jo's thick-crusted pies.
"We're looking for people with big appetites and bigger personalities," Bling said. "It's all about having fun."
Costumes are encouraged, an element of the event contestant Chris Baumann said he plans to take to heart. Although he won't divulge anything about his get-up - he does admit that it came from a thrift store and that it involves a pair of purple rollerblades, Baumann said he already has started prepping for the competition.
Baumann's training regiment stays in line with Bling's event planning philosophy: "I plan to eat a lot of Beau Jo's lunch buffet," he said. "And maybe just stay in there for a couple of hours."
Bling plans to make the contest an annual mud-season event to kick-start the summer, and hopes to convince the other eight Beau Jo's locations in Colorado to hold similar contests and crown regional winners.
"That way we can find Colorado's most prolific pizza pontificator," Bling said.
The prize package for the champion eater includes a free Beau Jo's large pizza every week for a year, a yearlong membership to Peak Fitness Center and a custom-made leather belt from Bear Valley Saddlery, as well as a bevy of gifts for runners-up, including contributions from BAP, Celebrations and The Local.
Anyone can enter, Bling said, so long as they have "$25 and a pulse." In the end, he said bragging rights for the contest winner could be just as hefty a reward as anything in the prize package.
"Fame and fortune will follow them for a year."