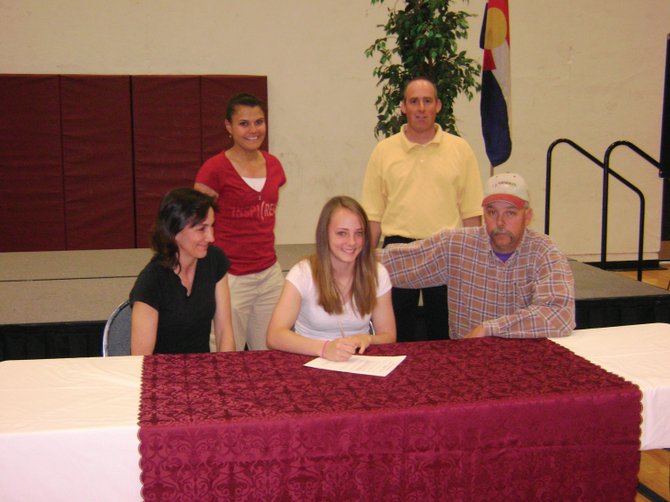 Sports briefs for May 22
Samuelson to play at CNCC
Steamboat Springs — Colorado Northwest Community College girls basketball coach Stephen Garnett received some good news this week.
Soroco High School senior Kelsey Samuelson, who led her team in scoring last year, doesn't care much about the offensive end. It's the other end that gets Samuelson excited.
"Defense is my specialty even though I'm a shooting guard. I love to play defense," said Samuelson, who committed to play for Garnett next year. "It's the intensity and being able to steal the ball. I love rebounding and stopping the player in front of me. That's what brings your offense, is your defense."
Samuelson will study horsemanship and horse management in Rangely for two years before moving on to either Colorado State University or the University of Wyoming. Depending on how basketball goes in Rangely, Samuelson said she hopes to have an opportunity to play at the bigger schools.
"I am very excited," Samuelson said. "I've been playing basketball since second grade. I love to play, I love the game."
Youth Lacrosse continues play, remains undefeated
The Steamboat Youth Lacrosse seventh-grade boys team continued its hot start, winning its second tournament in a row while remaining undefeated in the process.
A week after winning the Eagle County Lax Jam Battle of the Western Slope tournament, the seventh grade team went 4-0 at the Mountain Lax Jam Tournament in Evergreen.
The four wins put the team at 7-0 on the season.
"We've had a great start to the year," said Neill Redfern, director of Steamboat Youth Lacrosse and coach of the seventh grade team. "We'll definitely run into some serious competition this weekend. I don't know if we can continue this undefeated streak."
The seventh grade team continued to get strong play from Christian Ramirez, who led the team with seven goals in the tournament.
The sixth grade team went 2-2, putting its record at 4-3 on the season. The sixth grade team was led by Peter White's six goals and Ben Wharton's seven goals.
The eighth grade team went 2-1-1 in the tournament, pushing its record to 5-2-1 on the season. Scoring goals for the eighth grade team were Jace Worden, John Wharton, Wilber Ranieri, Lance Ostrom, Errik Hill, Kai Rogers and Max Scrimgeour.
All three teams and the fifth grade team continue play this weekend when Steamboat hosts the fifth annual Steamboat Classic Lacrosse Tournament. Including Steamboat squads, 33 teams will compete in the tournament.
First Town Challenge Bike race postponed
With mountain bike trails still feeling the effects of winter, the first Town Challenge Mountain Bike race has been postponed.
The first race, scheduled for May 28, will be moved to June 4.
The race will take place at Howelsen Hill.
Pre-registration for the race is $12 for adults and $7 for children. Day-of race rates are $16 for adults and $11 for children.