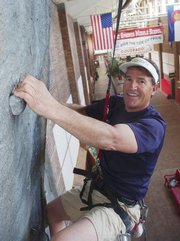 Friends of Education
The Steamboat Springs School Board also named its 2008 Friends of Education on Monday night. Ed MacArthur, Julie Taulman and Shelly St. Pierre received the annual award, given to individuals or groups who have contributed significantly to the Steamboat Springs School District.
For more about this year's Friends of Education, see Friday's Steamboat Today.
On the 'Net
Learn about Steamboat Springs Middle School's Everything Outdoor Steamboat education program on the Web at www.eosteamboat.o...
Steamboat Springs — To learn math concepts, sixth-graders in Matt Tredway's class at Steamboat Springs Middle School are designing houses and getting a feel for blueprints in a unit on architecture.
To learn about protozoa in a science lesson, Tredway recently took students to nearby Butcherknife Creek for water samples.
Another math lesson used a menu from a local restaurant to teach students calculating skills by figuring out taxes and appropriate tips for various orders.
Sixth-grader Marley Loomis, 12, said "the hands-on activities" are often her favorite part of class.
"You understand things in a really fun way with him," added Sara Stout, 12.
Tredway has taught at the middle school since the 1987-88 academic year.
On Monday night, the Steamboat Springs School Board named Tredway the Teacher of the Year for the Steamboat Springs School District. Other nominees - one from each Steamboat public school - were Carlene Heald of Soda Creek Elementary School, Lesa Scoppa of Strawberry Park Elementary School and Genie Love of Steamboat Springs High School.
Each nominated teacher will receive $1,000 for continuing education from the Lazof Family Foundation.
Tredway, who attempted a climb of Mount Everest in 2006, is perhaps most known for bringing his love of the outdoors to students. He leads the school's outdoor education program, Everything Outdoor Steamboat, which completed a massive fundraising and planning effort earlier this spring with the successful installation of a new climbing wall just inside the school's front entrance.
Several students attached to safety ropes and harnesses were scrambling up the wall's face Wednesday under the watchful eyes of school staff.
Jerry Buelter, assistant principal at the middle school, said Tredway's contributions extend far beyond outdoor activities.
"Year-in, year-out, his students do well on state tests," Buelter said, referring to Colorado Student Assessment Program math tests. "He's had years where his students had 100 percent proficiency levels."
Sixth-grade teacher Bettiann Carrell, whose classroom adjoins Tredway's, said she admires the veteran teacher's ability to blend his outdoor passions with his work.
"Matt has always been an inspiration to me," Carrell said Wednesday. "He celebrates life to the fullest, which can be a lesson for us all."
Fittingly, Tredway is on a camping and rock climbing trip today with nine students and three other adults, to the Shelf Road climbing area near Cañon City.
He said the nomination letter written by co-worker Wendy Hall did him "way more justice than I deserve."
"There's so many good teachers here," Tredway said about the middle school. "I'm totally humbled."
He now is in the running for Colorado Teacher of the Year, chosen by the state Board of Education.
Last year, Ben Barbier of Steamboat Springs Middle School won Teacher of the Year. In 2006, the honor went to Ginny Osbourn of Soda Creek.