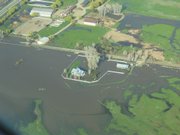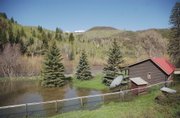 Steamboat Springs — High water continued to encroach upon houses near the confluence of the Elk and Yampa rivers Wednesday, as the Elk River reached its highest level ever recorded.
"We're at a flood of record," Routt County Emergency Management Director Chuck Vale said. "You're seeing river and creek runoff higher than all of the locals have ever seen."
The Elk River was measured at 7.8 feet at 7:15 a.m. Wednesday, well above flood stage, which begins at 7 feet. This current crest of high water, which began Monday, has bested by more than a foot the previous record of 6.7 feet recorded May 20, 2000, according to the National Weather Service.
The river not only is running higher than any other recorded level since record keeping began in the early 20th century, its flow was measured at 7,100 cubic feet per second Thursday morning, which Vale called "incredibly fast."
The numbers were so staggering that the U.S. Geological Survey sent officials to Routt County on Thursday morning to ensure its measuring equipment was functioning properly and that nothing was amiss with its gauges near Milner.
"Of course, it was right," Vale said of the measuring equipment. "It's the heavy snowpack you have on the upper part of the Elk River, which we've known about all winter."
A National Weather Service flood warning remains in effect until tonight for the Elk River, though the river is expected to fall below flood stage this afternoon.
Sandbag parties are happening up and down the river, with neighbors helping neighbors to move furniture and fill sandbags, Vale said. About 7,000 sandbags had been distributed as of Tuesday, with more being filled Wednesday and additional deliveries planned for the Seedhouse Road area in northern Routt County.
Rapid snowmelt damaged Seedhouse Road on Monday night, causing the road to slough off in several places between Elk River Guest Ranch and Vista Verde Guest Ranch.
Seedhouse Road remains passable, though 10.2 miles of Routt County Road 129 was closed to all through and commercial traffic Wednesday from Columbine north to 3 Forks Ranch, because of poor road conditions. Local and emergency traffic still will be permitted on the affected stretch of C.R. 129.
About 20 homes and parcels of property in Routt County have been affected by this most recent bout of high water.
"Again, we don't have any water in houses, but people are being proactive and protecting themselves," Vale said. "Everybody's doing OK. We had only one family that we were worried about, and they've chosen to stay put - and that's their choice."
Cooler temperatures this weekend will hopefully allow the snowpack to "settle" a bit, Vale said.
Although the National Weather Service predicted a 50 percent chance of thunderstorms this afternoon, daytime highs are expected to be no higher than the mid-60s for the next week.
"Then, we're going to enter another warming trend, and we'll be back at high water again," he said.
Railroad officials and the Colorado Department of Transportation have been checking their infrastructure constantly, especially the U.S. Highway 40 bridge that crosses the east fork of the Elk River just above its confluence with the Yampa River.
"The problem we'll have is debris. If a tree gets in the way, we've got a huge issue," Vale said.
From May 15 to June 15 each year, CDOT crews are required to check all bridges daily and remove any debris that impedes water flow or threatens structures, spokesman Bob Wilson said.
No problems have been reported on U.S. 40 in Routt County, Wilson said Wednesday.