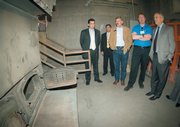 Oak Creek — When it comes to heating its schools, the South Routt School District is old hat - and trailblazing. Gov. Bill Ritter was in town Monday to commend the district on the latter.
South Routt schools could be the last in the state that are heated by coal. But by the time winter returns, South Routt students will be the first in Colorado kept warm by biomass boilers fueled with wood pellets.
The replacement of the district's dangerous and dirty coal boilers - which are pushing 40 years old - is part of a $4.1 million effort to improve energy efficiency in South Routt schools. Geothermal heating systems and new lights also are being installed. The improvements are possible because of state grants and voters' approval of a $1.57 million bond issue in November.
In an assembly at Soroco High School on Monday for students and the community, Ritter said the school district is a model for the "new energy economy" he hopes to see embraced in Colorado.
"This is really important to the state," Ritter said. "In Colorado, we really believe your future will involve a different way for you to both produce energy as a society and to consume energy. If we don't act : we really believe the climate is in peril."
Ritter said the new system will save the school district $15,000 a year in maintenance and utility costs. The new system will emit 977 fewer tons of carbon dioxide annually, Ritter said, and he hopes the project inspires school districts and other organizations across the state to take similar steps.
"We have to think differently about energy," he said.
The new system is being installed by Seattle-based McKinstry. Vice President Ash Awad also spoke at the assembly, and he drew a round of applause when he noted the overwhelming support voters showed for the ballot measures that made the project possible. Referendums 3A and 3B passed by a 3-to-1 margin.
"Projects like this prove that what's good for our environment is good for our economy," Awad said. "When a community makes such a commitment, others follow."
Awad also announced McKinstry's $1,000 donation to a student-led "green team" and a $1,000 scholarship the company will award this year to a graduating senior for academic excellence.
At a luncheon following the assembly, green team student member Conor Gray said the donation will help the team "get a lot more (recycling) bins and make life easier." Gray and other students at the luncheon said they are excited about the new heating system.
"It will be nice to walk outside and not have black all over the snow," Gray said.
Senior Brendan Russell moved to South Routt from North Carolina two years ago.
"One of the first things I noticed was the dust from the coal boilers and how it affected my breathing every day," Russell said.
Senior basketball player Matt Watwood said he couldn't distinguish his friends' faces across the gym at one of his basketball games due to a haze of coal dust.
"When they come in and see that," Watwood said of visiting athletes, "they can't think our school is clean."
Eighth-grader Lauryn Bruggink said when the actors in a middle school play needed to dirty their costumes for a scene, all they had to do was roll around in the hallway outside the boiler room.
"We'll have to find a new way to get costumes dirty," Bruggink joked.
The county's Republican legislators, Rep. Al White of Hayden and Sen. Jack Taylor of Steamboat Springs, also joined the Democratic governor at Monday's celebration. Both said they are excited about the project.
"I've known about this furnace for a long time," Taylor said. "It's certainly been a problem."
Moments after Ritter threw a ceremonial final shovelful of coal into the coalbunker at the high school, White said it is notable that a town that originated around coal is taking such a large step away from it.
"I think it's interesting how times change," White said. "I credit the governor and his administration for the leadership they've taken."
In 30 years, White said similar systems across the state might be the norm rather than the exception. Should that be the case, Ritter told the community not to forget who blazed the trail.
"We want you to remember : you were the first to do this," Ritter said. "Thank you for being visionary."