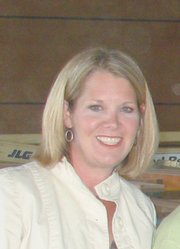 Julie Taulman
Steamboat Springs — Age: 38
Occupation: Mom, nurse (not really, but I spend enough time playing one), and director of marketing and public relations for Strings Music Festival
Place of birth: San Rafael, Calif.
Q. When did you move to Routt County and what brought you here?
A. In July 2005. My husband's job as assistant principal at Steamboat Springs High School brought us here but most importantly wanting to start life over again in a simpler manner after our youngest son was diagnosed with cancer.
Q. What's the biggest risk you've taken recently?
A. Taking on the project to rebuild the playgrounds at our elementary schools.
Q. Describe your morning routine.
A. Get up and have a latte (which my husband makes), shower, get the kids up and ready for school, pack lunches, check e-mail, get them on the bus and then off to work or do work around the house.
Q. Has a book ever changed your life? What was it and why?
A. "Eat, Love, Pray" by Elizabeth Gilbert. I read it while vacationing in Tuscany, and I feel that it really captured the essence of things that are important in life.
Q. What's the best piece of advice you've ever been given?
A. "Don't borrow trouble," from my dad. In other words, don't make up things to worry about, wait for the facts.
Q. What three things would you want people to know about you?
A. I have a problem telling people "no" (To all of my friends and my husband, yes I can admit that). I love to cook, and I tend to organize whatever group I am in (I am often called Julie McCoy the Cruise Director).
Q. What did you want to be when you grew up?
A. A marine biologist, until I decided that I would never make it three months at sea without people and a shower.
Q. If you could invite any four people to dinner, who would they be, and what would you talk about?
A. My grandma, Aunie, author Elizabeth Gilbert, chef Wolfgang Puck to cook for us, and Oprah (for friends Tim and Lori). We would talk about food, travel and finding balance in everyday life.
Q. In the Meatloaf song, "I'd do anything for love, but I won't do that," what is that?
A. I won't move from Steamboat!
Q. Who is your favorite superhero? Why?
A. Wonder Woman, because of her gold rope, invisible plane and outfit.