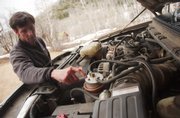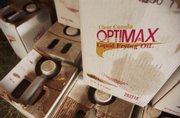 Steamboat Springs — A faint carnival smell drifts down Chris Voyvodic's driveway, teasing visitors with the possibility of a doughy funnel cake or a paper cup of French fries.
No such luck at this personal trainer's house. The grease-scented breeze wafts from his 2002 Ford F-250 pickup, a diesel-burning number that Voyvodic rigged to run on vegetable oil.
Voyvodic, 42, a former ski bum with a wide grin and an easy manner, said he has always been interested in the environment. He and his wife, Clare, live with their two children in a solar-powered house up Routt County Road 36.
Voyvodic put the system in last spring with help from his "genius neighbor," Jimmy, and his son, Mason, now 5. Voyvodic is thrilled with it. So, he said, is the truck.
"The engine likes it way better than diesel," Voyvodic said. "Diesel engines are lubricated by the fuel, and it's a much better lubricant."
Voyvodic said the system cost him about $2,400. He used a kit and information from greasecar.com.
Here's how it works: A tank in the bed holds about 40 gallons of vegetable oil. Tubes ferry fuel to the engine. The oil is heated on the way and under the hood, because oil that is too cool would ruin the fuel injectors, Voyvodic said.
Vehicles that run on vegetable oil have to start and stop using regular diesel fuel, Voyvodic said, so he has to fill that tank from time to time. A switch in the cab allows him to flip from one fuel source to another. When it's time to shut down the truck, the vegetable oil lines have to
be flushed with diesel so no oil congeals inside.
That also means the system is redundant, so he can switch back to diesel if there's a problem with the oil.
The contraption looks complicated, but Voyvodic insists that he's no automotive whiz kid. He's picked up a few things out of necessity.
"This is the nicest vehicle I've ever had," he said. "It's the only vehicle I've ever purchased. Most every vehicle I've ever had, I've had to figure out how to fix because they've been pieces of (junk)."
Green all over
The oil Voyvodic uses is free, taken from the fryers at Rex Brice's Mazzola's Italian Restaurant in Steamboat Springs. It works well for him and the restaurant, Voyvodic said.
"It's something restaurants have to pay to get rid of," he said. "It would just be going to the landfill; it's just wasted energy."
He praised Mazzola's oil because it's pure, non-hydrogenated canola oil. The wrong kind of oil - or oil with moisture in it - would leave the truck in a world of hurt, he said.
Voyvodic still has to filter the vegetable oil, which he does using three 55-gallon drums. He stores the raw oil in one and cranks it through a filter system to the next barrel, removing most of the particles. He cranks it through an even finer filter before it's ready for the tank.
He takes all of Mazzola's oil, though it's more than he can use.
David Reed and his 23-year-old son, Dalton, intend to use the oil from another of Brice's restaurants, Rex's American Grill & Bar. They plan to upgrade a diesel Volkswagen Rabbit to run on vegetable oil.
"We're just trying to encourage everybody to be conservation-minded in whatever way they can, 'cause we've all got to live in the same place," David Reed said.
Clear-burning benefit
Because of the time it takes for the pickup to warm up, Voyvodic's wife typically drives it around town. He works at Old Town Hot Springs, about six miles from his house, and would be running on oil for only the last part of that drive.
"It's still worth it, any time you can switch," he said. "Even if it's two minutes, that's two minutes you're not burning fuel. It adds up."
Clare has gotten dirty looks because she has to leave the truck idling while she runs into the post office. It takes a bit of time to cool it down, flush it and start it up again, Voyvodic said.
"She's definitely gotten some glares with that big old diesel idling away," he said. Voyvodic has been meaning to put a sign on the car explaining the fuel source - Brice suggested "Mazzola's gives me gas" - but he hasn't gotten to that yet.
The truck is perfect for long drives, Voyvodic said. The family traveled to Denver, up to Fort Collins and then to Laramie, Wyo., on half a gallon of diesel fuel - about $1.20 worth, Voyvodic guessed.
"At $4.50 a gallon, it adds up pretty quick," Voyvodic said.
The oil-driven pickup also has helped him teach Mason about the environment. The 5-year-old, who has his dad's bright blue eyes and a splash of freckles, helped tighten a few bolts on the truck last week.
"I'd like there to be something left by the time he has kids," Voyvodic said, looking at Mason, who hummed as he played in the dirt. "God only knows what it could be like if we don't change our path soon."
When asked whether he was going to use an oil-powered car someday, Mason nodded solemnly.
"Yeah," he said, twirling a golf club in the mud. "'Cause it doesn't put off so much exhaust."