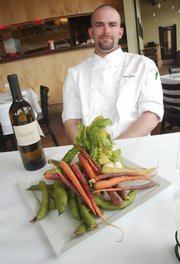 Steamboat Springs — When it comes to eateries, it's easier to find green salad than a green seal of approval.
Although several Steamboat Springs restaurants buy locally and implement some environmentally friendly practices, only one has landed top certification through the Steamboat Springs Chamber Resort Association's Sustainable Steamboat Business Program. Bistro c.v. has a gold rating, the program's highest.
Rex Brice is looking to add his establishments to the ranks. Brice owns Mazzola's Italian Restaurant, Rex's American Grill & Bar and the incoming Big House Burgers in west Steamboat. He's focusing on sustainability measures at the new restaurant, which is set to open June 7 in the former Lucile's Creole Cafe location.
"The unique opportunity we have here is that we're starting from scratch and building a menu," Brice said. "Once we do this place, we can take what we do here and use it at other places."
Big House Burgers will use environmentally friendly paper products for take-home food, local and natural foods and some eco-friendly cleaning supplies.
"Rex is really into it for this new restaurant," said Lyn Halliday of Environmental Solutions Unlimited, who helps businesses organize their sustainability programs. "He gets to start with a clean slate. He's got a lot of good ideas."
But Brice said cost can be an issue. He is aiming for a check average of $10 to $12 for a meal, which can make sustainable measures a challenge. Bistro c.v. is a higher-end establishment.
"If I owned a restaurant like bistro c.v., it would be a no-brainer to use local products, because you can charge for it," Brice said.
Efforts at the bistro
Bistro c.v. chef and co-owner Brian Vaughn said it isn't always costlier to buy local products. He said his restaurant, which opened last summer and received its sustainability accreditation last fall, rarely shops outside the U.S.
Buying domestic food, beer and wine cuts down on travel miles and therefore carbon dioxide emissions, Vaughn said. The restaurant also uses low-wattage lighting, recycles "every single thing" and uses appliances that suck up less energy, Vaughn said.
He buys beef from Idaho but is looking into providers in the Yampa Valley. Brice plans to get the beef for his burgers from River Ranches near Steamboat Springs.
That's the way to go, Vaughn said, though buying local takes more of the chef's time and effort. Bistro c.v. uses 35 suppliers.
"I think the main thing is just focusing on buying as much of your product close to home as possible," he said. "You end up with a much better product with people who care for the land and vegetables and meats they produce."
Food challenges
Restaurants marching toward environmentally friendly measures face a few stumbling blocks, Halliday said. Steamboat doesn't have a program to recycle large loads of pure glass, she said. That means alcohol bottles often end up in the trash.
"There are a lot of restaurants in town that want to set up glass recycling, but they don't have a lot of storage space, as a rule," Halliday said.
She said food scraps are another waste challenge. Restaurants usually have to trash them, Halliday said, though there eventually could be compost opportunities available.
"I think if enough restaurants in town demand that, someone will figure out a way to turn it into fertilizer or feed it to hogs," Brice said.
Other issues for restaurants are water and energy use, Halliday said.
Many local restaurants have been interested in sustainability measures, she said. Costs can be prohibitive, though, particularly because restaurants often can't go out and buy big-ticket equipment. Some replace appliances as they break with versions that use less energy or water.
"Part of the whole sustainability goal is that it's not just environment, it has to be economically feasible," Halliday said. "So yeah, it is hard because, as you know, food is getting more and more expensive. The other part of that is when the economy slips a little, people tend to cut out eating out as one of the first ways that they are looking to save money, so it is harder for restaurants, I'm sure."
Supplying Big House
When Brice opened Rex's a year and a half ago, he asked his food supplier for a list of organic items. There were a few. Now, that list runs several pages, Brice said.
Bryce Hagemeier of U.S. Foodservice is the holder of that list. He expects it to double in a year.
"Even in the last three months, it's growing, and it'll be a focus of ours as a corporation because the public is starting to demand it more," Hagemeier said of organic food. Hagemeier said those products could cost significantly more than their non-organic counterparts.
"Percentage-wise, across the board, it might be 20 or 25 percent more," he said. "Some of the produce items are twice as much because the yield is lower and it takes more time. As far as the meat goes : to be organic, everything they eat has to be organic, and it can be twice as much."
Although sustainable food products can add a considerable amount to a restaurant's bottom line, recycled or biodegradable paper products sometimes cost nothing extra, Brice said. Big House Burgers will use to-go utensils made of potatoes and cups made of sugar and corn syrup.
Steve Green Co. is supplying many of those items, Brice said. Steve Green Co. General Manager Jim Barker said the company stocks paper products such as unbleached tissues and toilet paper that are made of 100 percent recycled material.
"We're going crazy green these days," said Michael David, who runs the warehouse.
Barker said the prices and quality were similar to standard products. A lot of restaurants are moving away from Styrofoam, which is petroleum-based, he said.
"We'd probably be better off if people brought their own plate and coffee cup, but that's probably not going to happen," Barker said with a laugh.
Everyone seems to want to jump on the Earth-friendly wagon, Hagemeier said. He doesn't think it's a fad.
"This is going to last. It's for the world. Everyone's trying to make it better because we're overpopulated and destroying it."
- To reach Blythe Terrell, call 871-4234 or e-mail bterrell@steamboatpilot.com