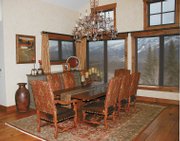 Steamboat Springs — One of the large homes in Agate Creek Preserve is back on the market with an asking price of $5.85 million, a number that could help establish the market for local high-end estates in the midst of the national economic downturn.
This time around, the 7,328-square-foot home at 31050 Sweetwater Lane is being offered fully furnished with many custom pieces.
"It's got the big 'wow' factor with 8 acres protecting the views," said Stephan Baden, listing broker/owner at Re/Max Steamboat. "There's in excess of $300,000 in furnishings here."
With furnishing included, the home is priced at about $692 per square foot.
Baden said he thinks this summer - when second homeowners and buyers are more apt to be visiting - will tell a great deal about how the local market is weathering a tough economy.
Baden also was the listing broker when the property, originally a spec home built by contractor Stein Halsnes and an investment partner about four years ago, was first sold.
Picture windows in the great room and formal dining room frame views looking straight into the gladed ski trails in Priest Creek at the Steamboat Ski Area.
In the evening, a full view of the base village shows off the lights coming on in the valley.
Realtor Arlene Zopf of Steamboat Village Brokers toured the home and approved of what she saw.
"I think this is a phenomenal house," she said. "It has views from every room."
Among many notable architectural features in the home are three unusually large hewn beams in the living room.
The six-bedroom, 7.5-bath home has as many square feet in decks and patios as some single-family homes in Steamboat - 1,905 square feet.
Baden observed that the home is ideal for buyers with adult children and grandchildren.
"There are two bedroom suites in addition to the master suite," Baden said. "And each of those has its own living area attached so families can have their own space. All three suites are on different levels."
The master bathroom is large enough to accommodate a grand chandelier - that's in scale. Throughout much of the home, the ceilings are 10 feet tall.
The kitchen of the home has an extra room almost anyone would enjoy but few can aspire to - its own office. But this kitchen office does double duty. A portal in the office overlooks the wet bar, so that caterers could access the bar while helping to host a party.
There is a separate covered deck off the kitchen to house the barbecue grill, and another deck off the dining room has a patio table that seats eight.
The recreation room on the walkout level is exceptionally large and includes a wet bar with its own dishwasher. And not far away is 1,111 square feet of unfinished space that could be converted to a theater or fitness room.