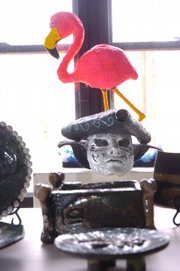 Past Event
Saturday, May 17, 2008, 10 a.m. to 4 p.m.
Depot Art Center, 1001 13th St., Steamboat Springs
Not available / Free
Steamboat Springs — Walk into the front gallery room of the Depot Art Center in the next two weeks and you'll be greeted by the sound of Soda Creek Elementary School students giving their definitions of "art."
A video installation in the Routt County Youth Art Show, the school's contribution includes such sentiments as, "Art is the ripples on a potato chip." The vibrancy of the Routt County art scene is reaching the younger generation, it seems.
The show, which opens with a reception from 10 a.m. to 4 p.m. Saturday, features about 300 works from public and private elementary, middle and high schools in Steamboat Springs, Hayden, South Routt County and North Routt County.
It's a broader representation than past youth art exhibits, which included works by students at Colorado Mountain College and limited some schools to just three submissions in the art center's front room.
"I'm so thrilled about the participation of all the schools this year," said Marion Kahn, executive director of the Steamboat Springs Arts Council. "It's really impressive when you see all the effort of teachers and students and to see how it all turned out."
Cameron Osteen, a junior at Steamboat Springs High School, has two pieces hanging in the show. Her self-portrait inspired by Italian artist Amedeo Modigliani and a drawing shaped with words are part of the wide range of media covered by the school's art department.
"This year has been really fun in art. I feel like it's been a really productive year," Osteen said. "I've liked every piece I've created."
High school art teacher Lisa Derning said the show gives her department a chance to let parents and other community members in on the results of the school's offerings in drawing, painting, pottery and photography.
"I think it's just so important to show the community what you're doing as an art department, and this gives us an opportunity and a format to do so," Derning said.
With the expanded format, Derning's students, along with fellow art teacher Ryan Choate, were able to submit about 50 works for the show. Linda Laughlin, visual arts director for the Arts Council, said the showcase sheds light on the benefits of giving students an artistic outlet during the school day.
"You really get a sense for the students and how hard they're working," Laughlin said.