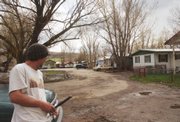 Steamboat Springs — Developer Jim Cook confirmed Thursday that Green Courte Partners has placed Dream Island Mobile Home Park under a purchase contract and intends to use the site for deed-restricted, affordable housing.
The deal has not been consummated.
"Our job is to try and make the current renters owners," Cook said. "It's not set in stone how we'll accomplish that, but I think we can make it happen. I think we can be very creative."
Dream Island is nestled between U.S. Highway 40 and the Yampa River on the west side of Steamboat Springs. There are more than 80 homes in the park, Cook said. He did not divulge the contracted purchase price.
The current owner is Front Range firm Colorado Real Estate Investment Co., or CREICO. Typical lot rent is $530 a month, according to residents.
CREICO Chief Financial Officer John Eberle said his company had been quietly marketing the mobile-home park, which it has owned for about 15 years.
"We get approached from time to time on that property and, in this case, we decided to test the market," Eberle said. "We put together a packet and sent it to a few parties."
Dream Island resident Moose O'Malia was skeptical about Green Courte's plans to keep Dream Island a mobile-home park and lamented the changes Cook and Green Courte already have brought to Steamboat's downtown.
"This is prime real estate on the river," O'Malia said. "I'm on welfare and food stamps and can barely afford to live here now. Keep all the large (developments) out at the mountain and keep Old Town, Old Town."
Green Courte, based in Chicago, is the investment partner in three major downtown Steamboat Springs developments incorporating residential and commercial space. Those projects include Howelsen Place and Alpenglow, nearing completion on Lincoln Avenue. A third, River Walk, has not broken ground but would occupy the site of the former Westland Mobile Home Park.
Cook said Dream Island would help his development team meet the affordable housing requirements mandated by city ordinance.
Residents respond
The development team has not made any decisions, Cook said, but one possibility is gradually replacing Dream Island's older mobile homes with new mobile homes and giving current residents the first opportunity to buy them. They also are contemplating offering owners a 99-year lease on their lots, which would make it possible to get financing and afford residents increased security.
Dream Island resident Tracy Delli Quadri would be happy to see her mobile home bulldozed if she could be assured of remaining at Dream Island, she said. Delli Quadri, who has lived in Steamboat since she was three months old, operates a licensed home child care business and is a respite care foster parent who is called on in crisis.
"I love living here," she said. "I just don't love my little house. My neighbors are quiet, and it's a perfect location for what I do."
Jay Mogil is a Dream Island resident and also operates a camera and electronics business in one of a few commercial spaces occupying an old motel at Dream Island.
On Thursday, Mogil said he was taking a delegation of fellow Dream Island residents to meet with Cook in the evening, at Cook's invitation.
"I hope Jim Cook's goals for Dream Island to remain an affordable mobile-home park come to full fruition so that as many of the current residents as possible can remain here," Mogil said. "I hope that we're able to keep an affordable housing neighborhood viable in this town and that people can see that this is an opportunity to build equity (in their homes) that they might not otherwise have."
Upgrades intended
O'Malia, 74, has a beautifully cared for home with shrubs and trees she has planted and containers of pansies that already are thriving.
She said she is worried that if she needs to sell her home someday to be able to afford supported living, her 35-year-old trailer won't attract a buyer because Cook's group would replace it with a newer home.
Cook said he and his partners intend to improve conditions in the mobile-home park.
"I think I can assure everyone it will not be kept in its current state," he said.
Better streets, landscaping, streetlights and tighter oversight of neighborhood covenants are all a possibility, Cook said.
Green Courte's profile in Steamboat is one of a luxury residential and commercial builder. However, Cook said the company has financial ties to a manufacturer of mobile homes. Green Courte announced this month that it was named "Manufactured Home Community Operator of the Year" at a convention for the manufactured housing industry. The company release states that Green Courte helped to found the Urban Land Institute's Manufactured Housing Community Council, and has promoted long-term leases throughout the industry.
Cook sees Dream Island as an ideal place for deed-restricted, affordable housing.
"What better place?" he asked, "than a place that's within walking distance of downtown, already has a park in place and where trails already exist."