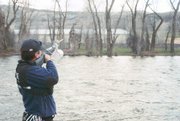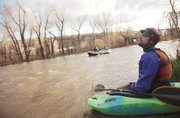 Steamboat Springs — As members of Routt County Search and Rescue prepared to shoot a rope across the Yampa River for a training exercise Tuesday, a pair of kayakers floating downriver helpfully offered to paddle the line across.
"That's all right - we like to use the line gun," Search and Rescue volunteer Russ Sanford said from the riverbank. "We never pass up a chance to use the line gun."
The powerful gun can shoot rope 300 yards so fast that the rope only drops three finger-lengths. Firing the gun was an early step in rigging up an elaborate ropes system over the rushing water of the Yampa to practice for potential rescue scenarios.
"It's an opportunity for us to get out here, try everything out, see what we can make and how we can use it," Search and Rescue volunteer Riley Polumbus said. "It's a good opportunity for us to challenge ourselves."
Ropes rigged up Tuesday included multiple lines strung over the water and tethers to guide rafts. The system has real-life applications, said Search and Rescue Vice President of Training Dawn Alperti.
In addition to allowing rafters to move safely and slowly - even upstream in fast-flowing runoff - there are several places in Fish Creek Canyon, for example, where they'd use such a system to send crew members down to rescue sites, Alperti said.
Although ropes are nothing new to Search and Rescue, using the system on the Yampa was a new twist, Sanford said.
"It's working pretty well," Sanford said. "We've rigged the high line before over canyons, but we've never done it before in a river."
The roughly two-dozen volunteers assembled stood at their respective ropes positions on opposite banks Tuesday, communicating with rafters and kayakers in the water by radio and hand signals for a coordinated effort.
"We're happy to see that it worked," Search and Rescue President Randall Hannaway said. "In the extremely rare situation where you'd need it, it's good to know."
- To reach Melinda Dudley, call 871-4203 or e-mail mdudley@steamboatpilot.com