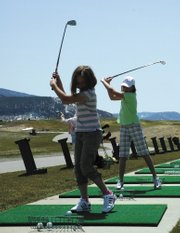 Steamboat Springs — Eager golfers crowded the only open course and driving range in Steamboat Springs on Sunday, as the lingering effects of a heavy winter continue to prevent the wide-scale opening of Routt County golf facilities.
"We're tighter than O.J.'s glove," Steamboat Golf Club manager Wayne Garrison said while holding up the reservation book in the course's clubhouse.
Moments later, Garrison thanked a threesome that called to cancel its 3 p.m. tee time.
"Thank you for letting us know," he said. "We could sure sell that one."
Every tee time at the course was taken Sunday. Garrison said the early season is usually the nine-hole course's busiest since it tends to open a few weeks earlier than Steamboat's 18-hole facilities.
Haymaker Golf Course opened its driving range Friday, and it was full Sunday afternoon. Among those warming up their swings in anticipation of the course's full opening were Mary Jo Wiedel and her two daughters, Abigail and Maritza. The three said the driving range was a great place to spend Mother's Day.
First assistant professional Scott Matthews said Haymaker hopes to open its practice chipping and putting greens in a matter of days, but officials still are reluctant to set an opening date for the full course.
"It's still really wet out there," Matthews said. "There's still some pockets of snow. If we can get some good weather, some dry weather, that will certainly help."
Golf director Hank Franks praised the work that golf course superintendent Bill Whelihan already has completed under difficult conditions.
"We've got a lot of maintenance work behind us," Franks said. "Now we're just waiting for it to dry up. : There's areas out there that are just too wet to have traffic."
Franks said course officials will reassess at the end of this week, and if the weather continues to improve, they will start assessing the course daily. Franks, who previously worked for the Sheraton Steamboat Golf Club, said while area golfers have grown accustomed to early openings in recent years, a year such as this one is more the rule than the exception.
At about noon Sunday, Clyde Turner was among about a dozen people waiting to tee off at Steamboat Golf Club. Turner said he "had had enough" of the epic winter that made for a great time on the slopes but was sure to infringe on the golf season to follow. Nonetheless, Turner saw a bright side to the conditions.
"It's in great shape," Turner said of the course. "I think the snow helped it out. It's super green."
Garrison agreed.
"We're getting lots of compliments on the course," he said. "It's in great shape after a long, hard winter."