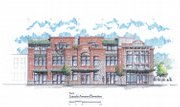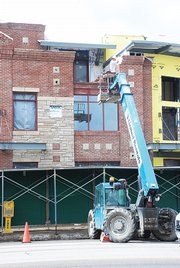 Steamboat Springs — If you know what to look for, you can see a little of downtown Grand Junction and even a bit of Deadwood, S.D., in one of Steamboat's newest buildings.
The Victoria, nearing completion at Lincoln Avenue and 10th Street, was praised this week by the city's Historic Preservation Advisory Committee as part of its observation of Historic Preservation Month.
Committee Chairwoman Pam Duckworth said The Victoria exemplifies the ways in which new construction can be compatible with a historic setting.
"It's an important new building," Duckworth said. "It's close to the (historic) Pilot (newspaper) Building, the U.S. Forest Service building and the Lorenz Building.
Denise Peterson, who developed the project with her husband, Steve, said some of the most attractive details in the mixed commercial/residential building were spotted during trips to other historic Western cities.
"We had fun making road trips to Grand Junction, Fort Collins and Denver," Peterson said. "We did a lot of investigative work and paid attention to what we liked. Often, Matt Wagar, (of Moon Hill Design) went with us."
Wagar wasn't along for the trip to Deadwood, but Peterson said the details they observed in the historic district there influenced The Victoria.
"We got so many ideas there, and we took pictures," Peterson said.
Wagar said he's pleased with some of the details on the building's façade, where a handful of red bricks are used to create tiles within larger expanses of Colorado sandstone. Similarly, bars of sandstone are used to break up the tonal mass of large brick walls.
"Steve and Denise really wanted to use traditional materials, and they wanted the building to very much fit with downtown Steamboat architecture as well as cities like Grand Junction and Glenwood Springs," Wagar said. "My challenge was to give it a nice fresh character, but with traditional elements. They helped me a lot by giving me a strong sense of what they wanted early in the process."
Wagar said he and his clients contemplated a building that would have required variances to the city code but, in the end, decided to adhere to the city's design guidelines.
"I didn't try to buffalo" city officials, Wagar said. "We didn't ask for any variances, and I worked with the character" of the downtown historic district.
Peterson said she and her husband didn't have to sacrifice to meet the design guidelines.
"The project wasn't difficult in that sense," she said. "We've done a number of projects here, and you learn that when you work with the guidelines, it will make a project go through with as little pain as possible."
Laureen Schaffer, historic preservation specialist with the city, said The Victoria has succeeded in the goal of moving downtown architecture forward while still honoring elements of the district's historical style.
"They just hit the right balance," Schaffer said. "They followed the intent of the design guidelines by not just repeating older buildings but, at the same time, respecting them."
Wagar said examples of the mix of old and new can be seen in the mix of old-fashioned "punched" windows and more modern floor-to-ceiling windows in The Victoria.
Schaffer admires the use of traditional wrought iron balcony railings. The relaxed S-shape of the railings is a contemporary interpretation of a historical material that succeeds, she said.
Duckworth said recognizing the design success of The Victoria represents a chance for the Historic Preservation Advisory Committee to demonstrate that it's interested in more than saving old buildings.
"Preserving things built in 1910 is not our sole focus," Duckworth said. "We know things are going to change. One of our precepts is that the building design guidelines can precipitate changes that are compatible in an historic area."
The three-story, 32,000-square-foot building includes seven residential units. They vary in size from 1,000 to 3,000 square feet, and two are bi-level units. None of the seven is under contract.