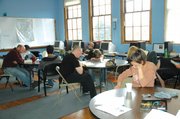 Steamboat Springs — Joel Ocejo, 16, drowned out the light-hearted conversation of his classmates as he leaned forward and focused on his artwork.
A Steamboat Springs resident and sophomore at Yampa Valley School, Ocejo used a small brush to paint intricate details of the Mexican flag. The details were dwarfed by the overall work - a wall-size mural at the school, on the third floor of the George P. Sauer Human Services Center on Seventh Street - but to Ocejo, the details were a matter of pride.
"I'm trying to show the school has a little bit of Latin culture and diversity," he said.
Yampa Valley School, nearing the end of its second year, has 12 students from across Routt County. The school is its own school district, accredited by the Colorado Department of Education and channeled through the Northwest Colorado Board of Cooperative Educational Services.
On Thursday, the students spent part of the morning working on their mural with help from art therapist Suzy Holloran. The picture-in-progress features a large brick wall with the letters "YVS" in graffiti-style lettering under a mountain landscape and broad sky but also includes personal touches from YVS students.
"It's a mural of all of us combined together," said Maggie Faulkner, 16. She painted the bear logo from California's state flag to represent her family's home, along with a hand holding a microphone to represent her "love of old-school hip-hop."
Stagecoach resident Ryan Tibbetts, 17, added his family crest to the colorful mural.
"That's kind of what our school is - everybody contributes their own thing," he said. "We all like being around each other. It's a better opportunity for us to focus on our schoolwork."
Yampa resident Robert Anderson, 17, said that opportunity is allowing him to catch up on credits he missed during an extended absence from high school. After about two years that included a move from Glenwood Springs, a failed attempt at home schooling and work at the Weston gas station in Yampa, Anderson said he now hopes to graduate on time.
Haven Thomas did just that Saturday, when the school held a personal graduation ceremony for her at the Creekside Cafe & Grill.
Teacher Karla Setter said Yampa Valley School students base their curriculum on educational standards by McREL, a Denver-based organization that provides learning strategies for students nationwide.
"What's unique about our school is (students) are more engaged in their learning because they have control over it," Setter said.
Tibbetts said the chance to succeed in high school far outweighs the hurdle of commuting every day from South Routt.
"It's definitely worth the drive," Tibbetts said. "We all love it here."
To reach Mike Lawrence, call 871-4233 or e-mail mlawrence@steamboatpilot.com