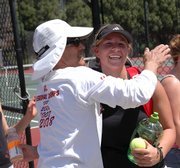 Class 4A state tennis championship team standings
1. Niwot, 57
2. (tie) Kent Denver, 36
2. Fossil Ridge, 36
4. Steamboat Springs, 35
5. Cheyenne Mountain, 32
6. Mullen, 29
7. Broomfield, 25
8. (tie) Ralston Valley, 13
8. Fountain Valley, 13
10. Greeley West, 10
Class 4A state tennis tournament final round results
No. 1 singles
Champion: Sammie Watson, Kent Denver
No. 2 singles consolation semifinals
Shelby Reed d. Kristina Barber, Cheyenne Mountain, 6-3, 6-3
Champion: Claire Runge, Niwot
No. 3 singles finals
Molly Weiss d. Amanda Lee, Niwot, 6-3, 4-6, 6-4
No. 1 doubles consolation finals
Emily Venner and Kalyn Miller, Cheyenne Mountain d. Sara Bearss and Kylee Swiggart, 6-4, 4-6, 6-2
Champion: Meredith McClelland and Kara Bowman, Fossil Ridge
No. 2 doubles
Champion: Hillary Vekert and Jenna Cavalli, Broomfield
No. 3 doubles
Champion: Whitney Fredericks and Whitney Vaswig, Niwot
No. 4 doubles
Champion: Anne Elder and Katie Porter, Cheyenne Mountain
Maybe she knew there would be plenty of time - later in the day, next week or next year. For whatever reason, Steamboat Springs High School senior Molly Weiss didn't want her fans to cheer as she battled early in the first set of Saturday's Class 4A No. 3 singles state championship match in Pueblo.
She implored friends and family to stop, at least through the first two sets, even asking her mom to back away from the court midway through the grueling match.
But the crowd roared for Weiss throughout the third set, and it roared afterward when Weiss, defeating Niwot's Amanda Lee, 6-3, 4-6, 6-4, became the first Steamboat girl to win a state tennis championship.
There will be plenty of time to cheer that, she said.
"I can't believe it. It's crazy to me," Weiss said. "My goal was to make it to the finals, so winning the championship was icing on the cake. It's pretty cool, and I hope it's a trend I start for Steamboat in the coming years."
Weiss, who lost to Lee, 6-2, 6-0, in a match earlier this season, commanded the first set from the start, dictating the action with a deep and powerful forehand. She swept Lee away, building a 3-1 lead and taking the set when Lee dropped a short lob 10 feet on Weiss's side of the net. The senior was ready and blistered the ball hard, fair and far out of Lee's reach.
It was as aggressive a point as she'd score all day, and the last bit of fire she'd show until the third set. Her frustration with the fans, a series of unforced errors and a decidedly more conservative approach from Weiss helped Lee even the match.
"She was looking to blame everything outside the court," Steamboat coach John Aragon said. "Before the third set, we talked about her last name, and I asked whether or not she wanted to leave her name as the first singles player in the history of this program to win a state championship. I asked her whether she wanted to put Weiss there, whether that was important to her. She said it was and went out and competed to win."
Whatever was missing returned early in the third, with Weiss again grabbing a commanding advantage, going up 3-0, then 5-2 as she started to encourage the crowd and her cries of "Come on, Molly!" turned to fist-pumping shouts of "Yes!"
And, again, the aggression dissipated. Lee drew within one point of a 5-5 tie.
When it counts
The morning started with 14 matches playing simultaneously across the courts of Pueblo City Park. As Weiss teetered on the edge of collapse, the other 13 matches had finished and as large a crowd as the tournament saw gathered to watch.
Weiss was again at her best.
She held Lee off on four break point opportunities and finally took control. She held off another game point with the best shot of her tournament, a laser-straight forehand that drilled the far corner of the court. Two points later, she put the championship away, raising her arms in celebration and finally welcoming a long and loud blast from the packed bleachers.
"I couldn't let it go into another game," Weiss said. "Honestly, I needed that game. Mentally, it would have been tough to come back from."
Weiss wasn't Steamboat's only winner Saturday. Junior Shelby Reed made quick work of her competition in the No. 2 singles bracket to earn third place, defeating Kristina Barber of Cheyenne Mountain, 6-3, 6-3.
Reed made it through the 16-player tournament without going to a third set, whipping up the competition in all of her wins and falling in two sets herself in Friday's semifinal, where she faced the eventual state champion.
"I knew I'd have to come out strong," Reed said. "I worked for each point and got the first set and just told myself I wasn't going to a third set."
Steamboat's only loss came from the No. 1 doubles team, sophomores Sara Bearss and Kylee Swiggart.
They couldn't convert a 6-4 second set victory into enough momentum to claim third place, falling, 6-4, 4-6, 6-2, to a pair from Cheyenne Mountain.
"We lost the first set, but played well, then kept it up in the second set," Swiggart said. "In the third, they just outplayed us. They played well."
Niwot won the tournament with 57 points, all but making it official with a series of semifinal wins Friday.
Steamboat was fourth with 35 points, one back of Fossil Ridge and Kent Denver, but finishing in the same spot and with two more points than it did a year ago.