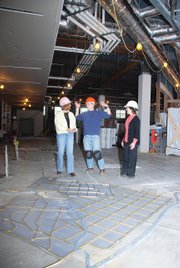 Steamboat Springs — When the dramatic Bud Werner Memorial Library expansion opens late this summer, first-time visitors could be surprised by their ability to stride across U.S. Highway 40 and the Yampa River in a single bound.
Minneapolis artist Brad Kaspari is creating an installation that will inject art into the terrazzo floor of the 23,400-square-foot library addition. It promises to bring the external environment immediately surrounding the library indoors.
A compass inset in the floor will greet library visitors arriving at the entrance closest to the Yampa River. Just past the compass, relying primarily on ribbons of inlaid brass, Kaspari has created the street grid of downtown Steamboat Springs and beyond, faithfully rendered topographic lines taken from actual maps. The topo lines are delineated by the numerals of their actual elevation - 7,600 feet, for example.
Terrazzo is a historic flooring material made with marble chips blended into a mortar that later is polished. The Routt County Courthouse has terrazzo floors, as do the Routt County Justice Center and Denver International Airport. At the library, rivers and streams including the confluence of the Yampa River and Soda Creek have been created with a material called Avonite, which is akin to the material in Corian countertops.
Kaspari's work is intended to elevate the $11.4 million project - which library director Chris Painter said Wednesday is on budget and on schedule - into more than a mere repository for books.
"We want to create an artful building," Painter said.
Kaspari said he is glad to be getting his hands dirty.
"This is always the fun part," Kaspari said. "Before, it was months and months of planning, planning, planning. For a town this size, to be doing something this elevated, is special."
Barb Ross, who chairs the library's art committee as well as serves on its board of directors, said Kaspari's work was chosen for its symbolic content.
"The library gives us access to all the world in much the way that a topo map guides us," Ross said.
The ribbons of brass topo lines stretch across the library floor, leading patrons to destinations within the building.
"Navigation, for me, is a very powerful metaphor for libraries," Kaspari said.
Personal spaces
Navigating the two-storied library addition this month means donning a hard hat to step over power cords and around busy construction workers installing drywall.
But the building's spaces and curved interior walls are taking shape.
Ross is excited particularly about an area designed specifically with teens in mind, and with teen input. The balcony created for young adult library patrons offers comfortable window seats bathed in north light. Privacy walls separate seating areas meant for two or three.
They're open to everyone, of course, Ross said, but she hopes the balcony makes young adults feel welcome.
In a different way, the children's library is designed to communicate with youngsters on a nonverbal level. The height of the bookcases in the children's library increases like stair steps, meant to house collections for progressively older readers.
Painter predicts that parents will find the new children's library a more attractive place to spend time out of the home with their youngsters.
The addition's second floor, which has a grade-level entrance off Lincoln Avenue, comprises 12,000 square feet. The floor space will be arranged with the library's nonfiction collection in the middle, surrounded by space planned for quiet study, reading and reflection, Painter said.
A phalanx of computers for library patrons will reside along its northern exposure.
"We can never have enough public computers," Painter said.
An increasing number of library visitors bring their laptops, and there will be work desks where they can become engrossed in their research.
The space is designed for as much wireless connectivity as possible - many feet of cable already have been pulled through walls and floors and large numbers of electrical outlets are in the floor to keep laptops blinking.
New views
Painter said the library's new reference department has been designed to allow reference librarians to help patrons with more involved tasks such as creating business plans.
The second floor also includes a couple of small rooms meant to allow two or three people to consult on projects.
The outstanding feature of the second floor is a 175-foot span of floor-to-ceiling tinted glass that arcs around the southern exposure of the building. It provides a view of Howelsen Hill and the confluence of Soda Creek and the Yampa River that Steamboat residents never have glimpsed before.
It will be rimmed with soft chairs and couches that could make it one of the most popular places to hang out in Steamboat Springs.
It should feel like home, Ross said.
Painter agreed.
"This building could have been a high-tech warehouse," she said. "But a public library in a small town has a greater role as a public building in terms of building community.
"It is neither residential nor commercial space. It is the community's living room. This building achieves a balance between great public space and providing the technical tools people need to help them with their research."